---
The new Maserati Quattroporte will have you revise any pre-formed perception of a near-two-tonne flagship sedan.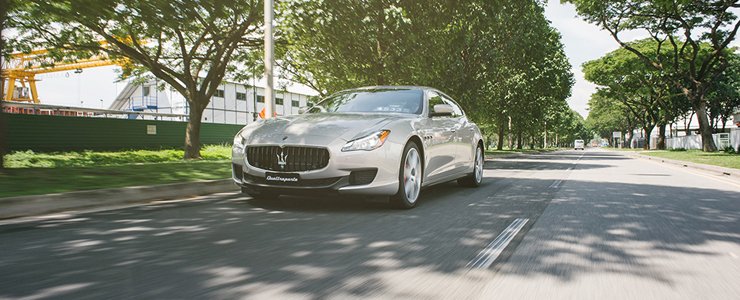 To drive any of the premium flagship sedans in a white long-sleeved shirt will instantly make you look like a chauffeur, and that's not the best first impression you'd want to give.

On that point, we have tried to debate on whether this breed of ostentatious personal transport (for the well-heeled, of course) should be driven in or self piloted. But if you need to know, the Editorial Team is seldom able to reach a conclusive closure.

Then again, that was before we had any real acquaintance to the Maseratis. And from the looks of it, it does seem like we've found more reasons to support the latter (self drive).


Exterior

When it comes to flagship sedan, size does matters. Exterior dimensions speak greatly of the car's status, and are almost a sure-fire way to ensure the car has a right footing among its counterparts.

Standing at 5,262mm x 1,948mm x 1,481mm (L x W x H), the latest Quattroporte is no dwarf in its arena. It is both longer and wider than the BMW 7 Series and the Mercedes-Benz S-Class.
Do not be, however, be mistaken that the new car is bulky or clumsy in any ways. The Italian designers have cleverly made use of the extra inches to create a sweeping silhouette that is more graceful than before. The pointed snout with Maserati's signature concave grille gives an intimidating look - even at standstill - while the rump ends tastefully with a subtle boot lid spoiler.
The figures, too, paint a better picture. The svelte body work result in better aerodynamics, creating a substantial 24 percent reduction in lift and is 12 percent more slippery through the wind than its predecessor.
This model is no longer being sold by local distributors
Horsepower
:
395kW (530 bhp) / 6800 rpm
Torque
:
710 Nm / 3500 rpm
Transmission
:
8-speed (A)
Acceleration (0-100 km/h)
:
4.7sec
Fuel consumption
:
8.4 km/L