---
Attractive price, good looks, generous space and loveable driveability, what's not to like about the new Volkswagen Jetta?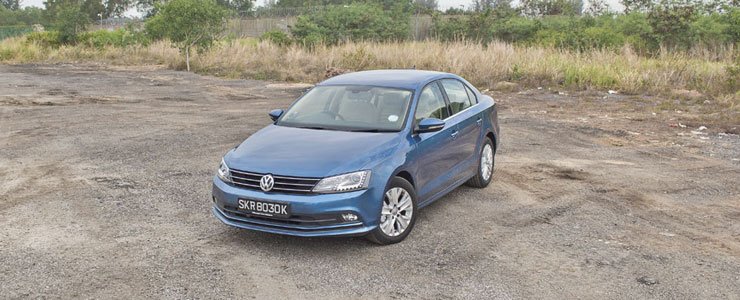 I can't say I'm much of a watch person but I do understand that Tudor is a sub brand of one of the world's most renowned watchmaker, Rolex. There are some resemblances between the two brands, although Tudor has its own unique designs that differ from its bigger and more expensive sibling. And in that sense, the new Volkswagen Jetta is like a Tudor, while the bigger and more expensive
Passat
is like a Rolex.
Priced at a competitive $123,800 (as of 8
th
May 2015), the car you see here is trimmed as Highline, which is like a Tudor Black Bay, but the one that comes close to the Tudor Heritage Chrono Blue will be the Jetta Sport, a more powerful car that's almost $40,000 more than the one tested here.
Up close and Personal
Volkswagen has done well with the Jetta, thanks to a more elegant sheet metal that puts it on par with more expensive models in its segment. While it's arguable that the Jetta has finally become a car that the German carmaker should have built since the beginning of time, it's always noteworthy to know that a fine watchmaker requires time and experience before it's able to fully reach a potential where its products can be admired, respected and valued.
Like how a Tudor is often mistaken for a Rolex, you'd be forgiven for thinking that the compact saloon is a Passat from a distance. And, mind you, this is no bad thing.
The updated Jetta features a new face, with a refreshed grille that emphasises the car's width and a new set of head and taillights that allow the car to keep up with the competition. But more relevantly, it's the overall understated look that makes it very sleek and desirable. In fact, unlike the
Toyota Altis
or the
Kia Forte K3
, it's completely without any drama.
Just as elegant is the cabin. Wrapped with a new and upmarket 'Corn Silk Beige' trim, it feels clean and light-hearted here. Upgrades include the piano black sleek steering wheel that's in line with the current generation
Golf
while the 5.0-inch touchscreen display gives the Jetta the much needed modern touch to keep it fighting fit with the competition.
This probably also explains why the functionality of the car hasn't been compromised, too. Nicely shaped and the largest at 510 litres, the boot space trumps the Altis' 470 litres as well as the K3's 421 litres, which means you can haul that extra golf bag or the luggage or even that Ikea product if you need to.
This model is no longer being sold by local distributors
Engine Type
:
4-cylinder in-line 16-valve TSI Turbocharger
Horsepower
:
89kW (120 bhp) / 5000 rpm
Torque
:
200 Nm / 4000 rpm
Transmission
:
7-speed (A) DSG
Acceleration (0-100 km/h)
:
9.8sec
Fuel consumption
:
16.7km/L