A performance upgrade sees Bentley's V8 S combine the best of luxury and pace.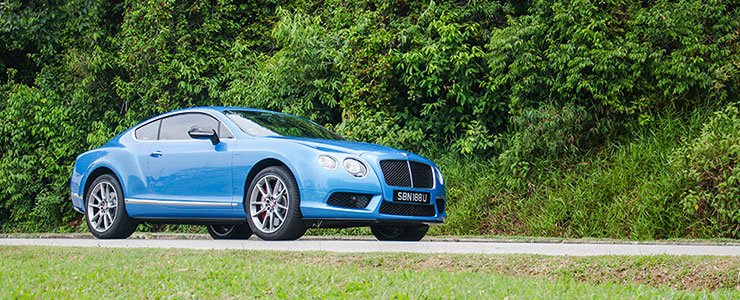 Whenever conversations touch on Bentley as a brand, the notion of a well-heeled gentleman with exacting standards of an epicurean taste for the finer things in life comes to mind. But for those who find the flagship Mulsanne a little too stately, the sleeker, more contemporary Continental Flying Spur would hit the spot. For owners who desire Bentley's devotion to craftsmanship and attention to detail in a car that represent a freedom of spirit, the two-door Continental GT grand tourer is the perfect answer.




The Continental GT is a beautiful example of a car designed for long distance driving down stretches of open highways at speed. That elegantly sleek form, with a muscular build characteristic of an active lifestyle and a zest for life, is immediately recognisable when spotted from a rear view mirror. Handsome in an understated way, the Continental GT is a little bit like the hardworking, hard playing James Bond. Unfortunately, the British spy prefers a far bolder ride from the likes of Aston Martin.

With the launch of the V8-powered Continental GT variants (it's available in coupe and convertible forms), the idea was for a car that was a little sportier than its plush W12 sibling. A huge success for Bentley, the Crewe based brand opted to enhance its range of offerings with a spryer version of its stylish Continental GT - the V8 S.

Up close and Personal

A performance variant of the 'standard' 4.0-litre twin-turbo V8 powered Continental GT, the physical appearance of the V8 S is only marginally different from its stablemate. It retains the same sculpted design with the same tell-tale red Bentley enamel badges and figure-eight exhaust tailpipes.
But in the same way it's the details that distinguish a quality suit - the performance-enhanced V8 S gains a lowered stance courtesy of the sports suspension system. Elsewhere on its exterior, the car sports a sharp new front splitter, side sills and rear diffuser - all finished in Beluga gloss.
Other contrasts that make an impression include its gloss back radiator grille and unique 20-inch open-spoke wheels that are capped by the signature red enamel badges. Naturally, that outstanding Kingfisher blue body colour on our test car highlights these contrasts better for our appreciation.
The lushness of the cabin though, remains the same. Save for two-tone leather upholstery that's now available as standard on seats as well as inside of the roof, drivers will find the same well-appointed interior complete with handcrafted elements like contrast white stitching on the two-tone Breeze and Imperial cowhide linings.
Honestly, the tech bits inside a Continental GT wouldn't draw you to Bentley. Rather, it's the sheer delight of being in such an exquisite space that exudes an aura of artisanal craftsmanship and lavish comfort that appeals to the senses. That, and the prospect of piloting a car that commands respect on and off the road.
Get over that and standout elements like knurled chrome detailing on the gearshift lever and ventilation controls, hand-finished Piano Black veneers, Breitling clock face and 8.0-inch touchscreen display for navigation, audio and comfort settings will impress.
This model is no longer being sold by local distributors
Engine Type
:
V8 Twin-Turbocharged
Horsepower
:
388kW (520 bhp)
Transmission
:
8-speed (A)
Acceleration (0-100 km/h)
:
4.5sec
Fuel consumption
:
9.3 km/L