---
Hyundai's new seventh generation Sonata proves to be one of the most complete family sedans available without having to break the bank.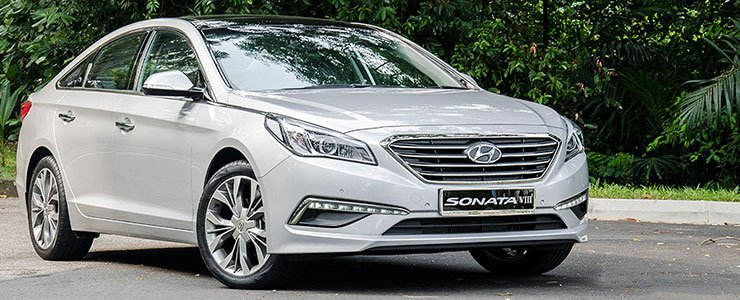 Buying a family car isn't too different from buying a home in Singapore (save for the fact that it's a diminishing value proposition here in Singapore). In fact, the cost of such a proposition can be equivalent of a small home, depending on just what kind of car you're getting, of course.




Considerations like "Will the car be able to sit the entire family? (Can it room the entire family comfortably?) How will it look like when I drive it to work? (How will my house make me look?) How much does it cost to run? (How much will utilities cost me?) What kind of features does it have? (How big a television and Hi-Fi set can I have?) How big is the boot for carrying things? (How big a wardrobe can I have?)" come to mind naturally. There is, needless to say, the performance element to this as well as we consider the car's driving performance.

Cumulatively, these are a fair number of boxes to check off for a car, especially for a family sedan. But for the new seventh generation Hyundai Sonata (the VIII is a naming reference by local dealer Komoco Motors) that you see here, it has undergone a complete redesign and has been built specifically to check off every single one of them.



Exterior
Taking cue from its bigger brother, the stately
Hyundai Genesis
, the new Sonata sports a distinctively new Fluidic Sculpture 2.0 fascia that gives it a very sophisticated and stylish appearance like the smartly dressed suit-wearing male K-Drama stars on primetime television.
With premium luxury being the name of the game, the new Sonata drives with a matured, confident stance that lets it stand out in the city. This is highlighted by a single-frame 3D hexagonal grille that's framed by a pair of well-shaped head lights with LED daytime running lights located just above the bumper. Arguably the car's most distinguishing element, this defines its improvement from the fifth generation 'taxis' that ply our roads.
Tacky styling name aside, the actual car has grown 35mm longer and 30mm wider to 4,855mm x 1,865mm x 1,475mm (L x W x H), for greater presence and comfort for passengers.
This model is no longer being sold by local distributors
Engine Type
:
4-cylinder in-line 16-valve DOHC
Horsepower
:
113kW (152 bhp) / 6200 rpm
Torque
:
194 Nm / 4000 rpm
Transmission
:
6-speed (A)
Acceleration (0-100 km/h)
:
11.1sec
Fuel consumption
:
12.7 km/L