---
The Hyundai Genesis flagship takes the fight to the Germans with its understated charm, quality features and an athletic drive.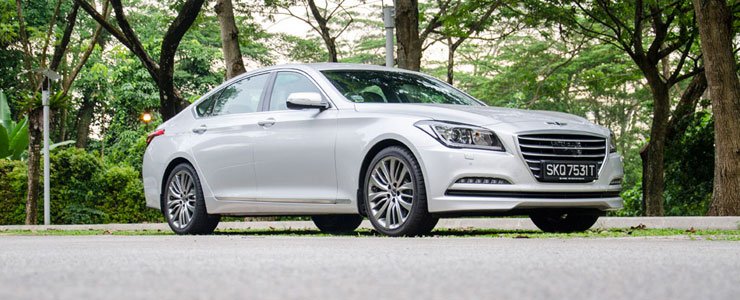 In the same way South Korea has slowly but steadily established itself as a major player in the world's entertainment, beauty and technological scene with musicians like PSY, television hits like
Winter Sonata
, multiple makeup brands, plastic surgery and Samsung phones, its cars have also kept pace with that development, progressing beyond being just another mass market vehicle manufacturer and into one that is on par with the Japanese and even the Germans.
Case in point, the second generation Hyundai Genesis sedan you see here. Reflecting the Korean carmaker's 'Modern Premium' brand direction, the car is Hyundai's first foray into the competitive premium segment where the Germans, together with Lexus, have long dominated.
Exterior
On first impressions alone, the Hyundai certainly has got the luxe look well sorted, which explains why 3,500 Koreans had signed on the dotted line for the car when it was first launched there in the winter of 2013. And with its enigmatic winged Genesis emblem on its nose and tail, one can be forgiven for not knowing of the Genesis' South Korean origins. Hints of Jaguar and Lexus might have given the impression that the Genesis was a European make, but it's the emblem that throws people off. While the wings hint at Bentley, the 'Genesis' moniker, is entirely new.
Elsewhere, the car's dignified form combines a muscular stance with elegant sophistication. In particular, the deep front grille, defined HID head lights with LED daytime running and taillights, look distinctly German in its implementation - making it appealing to drivers who enjoy subtlety.
Throughout the 4,990mm by 1,890mm by 1,480mm (L x W x H) large executive sedan, the only sign of its affiliation to Hyundai is under the bonnet, where the Hyundai brand name features on the engine cover. In terms of its dimensions, this car slots right in between the European competition it pits itself against. It's 91mm longer than an executive-sized BMW 5 Series, but 229mm shorter than a 7 Series limousine.
For this writer, the Genesis proved to be an ideal size for added space for passengers without having to worry about the mass of a bigger car. And with its 3,010mm wheelbase (42mm more than the 5 Series), ample legroom is guaranteed.
This model is no longer being sold by local distributors
Horsepower
:
232kW (311 bhp) / 6000 rpm
Torque
:
397 Nm / 5000 rpm
Transmission
:
8-speed (A)
Acceleration (0-100 km/h)
:
6.5sec
Fuel consumption
:
8.9 km/L