---
Given our sizzling climate, who can we turn to for reliable solar films? There may be ample brands for drivers to choose but there's only one we can trust.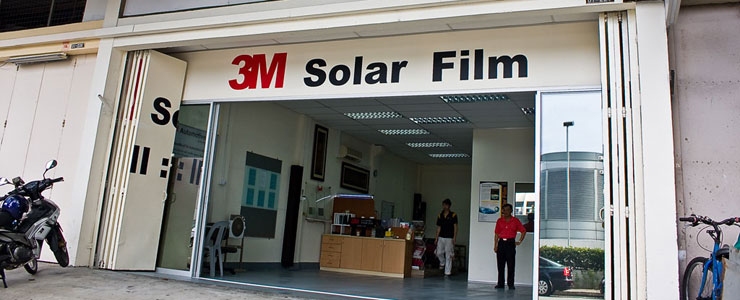 In a tropical country such as ours, the sun's rays emit radiation that can be potentially harmful to our skin and eyes. When the sun shines, the heat and glare transmitted through the windows can quickly become unbearable and will, eventually, become a potentially dangerous distraction on the road. So what's the best solution then?
What is a solar film and what are its functions?
A solar film is an alternative to using tinted and reflective glass. It is a flexible film that enhances a window pane by rejecting high levels of solar infrared heat, offering protection against glare and strong heat. Currently, metallic and ceramic are some of the common films offered in the market. They are manufactured using different materials and methods.
Metallic films are formed through methods of melting metals into vapour/gas which subsequently bond
s
to the films. Some films claim that they use sputtering technology, which uses electrically charged gases to dislodge metal molecules off metals like silver, and deposits them onto the film. The metal coating helps to reflect solar heat and depending on the shade of the metals, cuts glare (sunlight) from coming through the windows. However, metallic films tend to corrode if silver is extensively used.
Ceramic films use sputter metalizing technique to coat the film. Main types of material used are oxides like alumina, zirconia, carbide and titanium. These oxides are included as part of the ceramic classification. Ceramic films work by absorbing solar heat at the glass panel and thus retard the solar energy from entering through the windows. This characteristic, however, will cause the window panels to heat up, causing solar heat to eventually radiate into the vehicle. Unlike metallic films, ceramic films won't corrode or discolour over time.
Window panel is cleaned before installing solar film
3M Crystalline solar film, on the other hand, has a different proposition. It doesn't use metals or ceramic to reflect or absorb solar energy. Using 3M patented Multi-layered Optical film (MOF) technology, it comprises of hundreds of optical films combined together to help reflect UV and Infrared rays. Despite this, the combined layers are no thicker than a Post-It® note. Moreover, as the colour pigments are within the films and not on the surface of the films, they will not turn purple. Thanks to 3M's Multi-layered Optical Film Technology and its unique On-angle Heat Rejection Capability which rejects more heat during the hottest time of the day, 3M Crystalline Solar Films help to deliver more comfort, safety and protection to drivers.
What are the benefits of using a solar film?
Solar films protect the car occupants from the sun's harmful UV rays. For instance, 3M Crystalline Solar Films blocks out 99.99% of UV light, providing a total Sun Protection Factor (SPF) of over 1,000, which is more than 30 times the SPF of a regular sunscreen lotion. This high UV rejection rate gives vehicle occupants significant protection from the dangers of the sun's UV rays which include sunburn, damage to eyes, causes of premature aging and skin cancer. It also minimises distraction from the sun's glare while driving.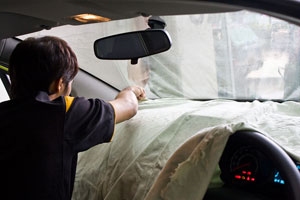 During the installation process, dashboard is covered to protect it from being dirty
Upon installation of the solar films to your car, you feel that your cabin is maintained at a more comfortable temperature. 3M Crystalline Solar Films excels in providing superior Infrared heat rejection of up to 97% and total heat rejection of up to 66%. This relieves the stress on air-conditioning during the day, resulting in an overall reduction in fuel consumption and savings.
Most solar films also equip drivers and occupants with an additional safety feature. In the event of an accident, the tough film, with its strong adhesive, holds the shattered glass together, preventing injury to the car's occupants. 3M Crystalline Solar Films are designed for additional tear-resistant strength and therefore help to keep the occupants safe inside the car. This shatter-resistance feature also prevents smash-and-grab thefts.
Solar films also provide occupants with privacy. Available with a tinted option, solar films are able to block out prying eyes of onlookers from peeking into the car. As 3M Crystalline Solar Films combine low reflectivity with a tinted option, back seat passengers are able to enjoy a comfortable ride with more privacy without worrying about non-compliance with LTA's regulations
Address
:
Blk 1045 Eunos Avenue 4 #01-130 S(409795) (map)
Opening Hours
:
9am - 6.30pm (Mon - Fri) 9am - 4pm (Sat) Closed on Sun & PHs
Phone
:
62433448 / 96323448
Related Categories
Recommended Merchants(View all)