There's more to solar films than just protecting car occupants from the Sun's harmful UV rays. Learn more about them here.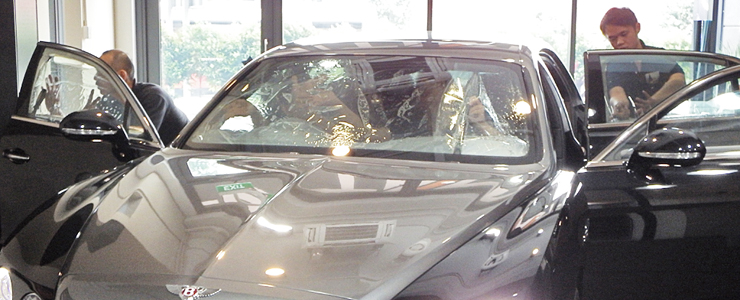 Definition of solar film & its uses
In a tropical country like Singapore, there is plenty of sunshine all year round. With the changing climates posing a threat to our living environment, the thinning of our ozone layer induces harmful radiations from the Sun, with consequential effects on our personal well-being.
With most of us spending a considerable amount of time each day commuting, it is important to find ways to negate the adverse effects. That brings us to the topic - how does solar film help to reduce the negative effects of radiation?
Solar film
has been introduced in the automotive industry a long while back, and has been increasingly seen as a commodity rather than an optional accessory. With improving product knowledge, there is a shift in public's perception towards solar film; from pure aesthetical value to more functional, deducible benefits.
Our cars work like a mini-green house. Solar energy can penetrate through the glass windscreens and windows to reach the cabin. Solar film has the primary functions of deflecting undesirable elements from the Sun, such as infra-red heat, ultraviolet rays. By limiting the amount of light entering the cabin, the films can also reduce glare from bright sunlight, thus improving visibility.
Some common misconceptions about solar film is that the darker the colour of the film, the better the radiation rejection. In some cases, the use of poor construction materials may lead to discoloration of the film, hence giving it a darker shade.
Advantages of using a solar film

Solar films, in general, protect the car occupants from the Sun's harmful UV rays. Taking Infratint solar films for example, it is fabricated using strenuous procedures that are synonymous with the Japanese culture - known as the 'sputtering' process. During the fabrication, positive ions are compacted onto a thin polyester film - this is to ensure that during application, the negative ions on the target glass panel will be evenly spread out, resulting in a long-lasting and effective protection.

As the Sun's UV rays causes damages such as sunburn, damage to eyes, causes of premature aging and skin cancer, having a high UV rate gives vehicle occupants significant protection from these dangers. Infratint's sputtering technique, which is also a breakthrough in Japanese technology in developing films, offers up to 99.6% UV rays rejection, immediately minimising the said dangers.

Another advantage of using a solar film is the possibility of maintaining a cooler temperature in your car's cabin. Infratint solar films offers up to 99% rejection of infra-red radiation (IRR) which significantly minimises distraction from the Sun's glare while driving. This also reduces the stress of driving and will allow you to focus in our already packed roads. More relevantly, this eases the strain on the air-conditioning unit, resulting in overall reduced fuel consumption and savings.

Solar films also provide occupants with privacy. Available with a tinted option, drivers need not worry about intrusive onlookers. As Infratint offers tinted solar films that are compliant with LTA's regulations, occupants are able to enjoy a comfortable ride with more privacy. More notably, all these are achieved while providing a very high Visible Light Transmission (VLT) of 78% without signal interruptions and oxidisation.
Address
:
32 Old Toh Tuck Road #01-10 I.Biz Centre S(597658) (map)
Opening Hours
:
10am - 6pm (Mon - Sat)
Phone
:
94560888 / 65151751
Related Categories
Recommended Merchants(View all)