We take a look at paint protection and its importance in helping to preserve the value of your car.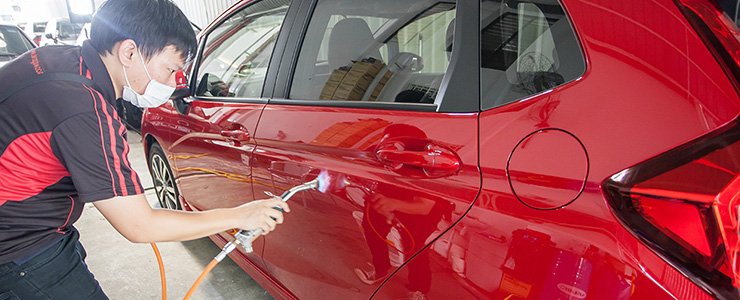 Benjamin Franklin famously wrote, "In this world nothing can be said to be certain, except death and taxes." However, in Singapore, there is arguably a third certainty - cars are an expensive yet depreciating asset. As a result, it is important to take measures to protect and preserve your car. After all, it has likely cost you a lot of money, and in the same way you would not want to dirty a new Armani shirt, we are sure that you would not want your freshly purchased car to become immediately tarnished.

In this advice article, we take a look at one useful way of preserving your car's look, which subsequently helps to retain its value and its eventual resale value - paint protection.


What is paint protection?
It is difficult to offer a simple one-line definition of what paint protection is, because it is a broad term that encapsulates multiple things, including various products and processes. However, it broadly refers to a layer of inorganic silica that has the effect of coating your paintwork in a 'shell'. Effectively, paint protection seeks to retain the shine of the car manufacturer's OEM paint. The additional layer of coating also improves protection against UV and infrared rays, and prevents the paint from oxidation and deterioration.

Why is paint protection important?



Paint protection is useful in maintaining one of the key and most noticeable aspects of the car - its outward appearance. It can be said to have two key functions - preservation and protection.
Primarily, paint protection products help to preserve the original colour, shine and gloss of the car's paintwork. Paint will oxidise and deteriorate over time, and paint protection products help to guard against these effects. Paint protection also offers a limited amount of protection against damage. However, it is important to note that paint protection does not make the car's paintwork damage-proof.

The combined effect is that paint protection helps to maintain the car's paintwork and appearance, which helps in preserving its worth and resale value. Additionally, many paint protection systems also negate the need to constantly polish your car to keep it shiny and looking brand new. The 'wet-look' effect that some people are after can be achieved. This helps to save time and money, as maintaining the car's sheet metal becomes an easy and irregular affair.

How is it applied to the car?

To better understand the process of how paint protection is applied onto the car, we enlisted the help of Sierra Glow to demonstrate its Blue Flame Treatment programme.


What is the Blue Flame Treatment programme?

The Blue Flame Treatment programme is a unique process and method of application that protects your car paint from oxidation and deterioration.
Address
:
20 Changi North Crescent #03-00 S(499613) (map)
Opening Hours
:
9am - 6pm (Mon - Sat) Closed on Sun & PHs
Related Categories
Recommended Merchants(View all)