Aside from the usual morning and evening peak hour jams, Singapore's city centre is also notorious for its high parking costs. Here are five of the most expensive parking spots in central Singapore.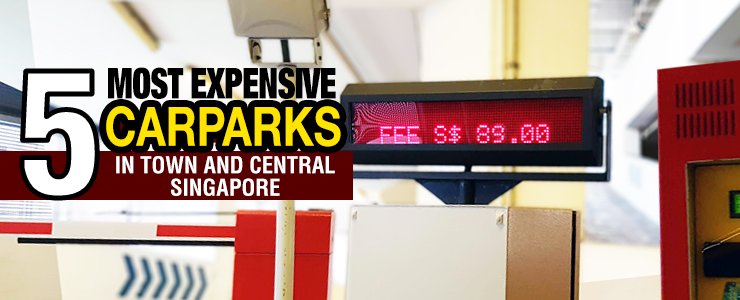 Although the cost of parking in central Singapore isn't as high as cities like London, New York and Tokyo, leaving your car in one of these five buildings in Orchard and the Central Business District (CBD) can be quite a strain on your finances.
Because we aren't geniuses at Math, we've used a simple formula, to calculate just how much it costs to park at these five places - two hours, from 2:00pm to 4:00pm on Mondays to Fridays.
Orchard

Hilton Singapore
Close to both ION Orchard and Takashimaya shopping centres, the Hilton Singapore is one of the top 25 luxury hotels on our island.

Four Seasons Singapore
The Four Seasons is a a luxury five-star, contemporary hotel that's a four-minute walk from the Orchard subway station.
A cheaper alternative to parking at the Hilton or Four Seasons is Forum The Shopping Mall, which costs $2.40 for first hour and $1.20 for subsequent half hours.


Holiday Inn Express Singapore
Located at 20 Bideford Road, the Holiday Inn Express Singapore boasts convenience and comfort for those who enjoy staying in the heart of Orchard.
To save some money, you can park at the Grand Park Orchard next door, which costs $3.50 for first hour and $1.50 for each subsequent half hour, from 8:00am to 5:00pm daily.
CBD
One Fullerton


Home to restaurants, cafes, bars and the late Butter Factory, One Fullerton, located at 1 Fullerton Road is a nice place to enjoy a
cuppa
in between meetings.
Unfortunately, most parking available around that area costs about $10 and upwards for the same period of time, so you might want to consider taking public transport instead.


One Raffles Quay


One Raffles Quay is a complex located at Raffles Place, consisting of the 50-storey North Tower and the 29-storey South Tower prime grade A office space.
If you don't mind a short walk, parking charges at One Marina Boulevard are slightly cheaper, at $2.14 per half hour. Although we'd also recommend parking out of town and taking a train in to save more.
For a complete list of carpark charges in Singapore, you can refer to our
Carpark Rates
page.
Related Categories
Recommended Merchants(View all)