We highlight six ways for you to become a smarter parallel import car buyer and sidestep potential difficulties.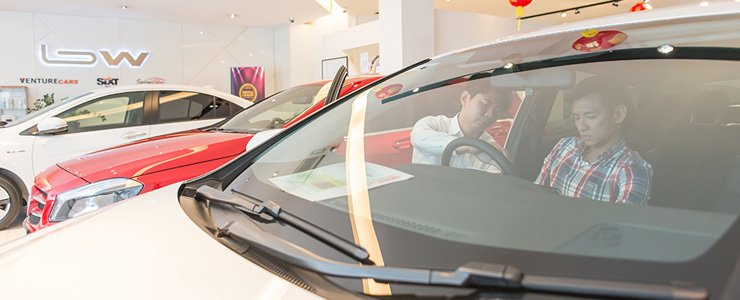 In recent years we have a seen a clear
boon in Parallel Importer (PI) sales
. One reason is that with the high COE premiums resulting in higher car prices, buyers have become a lot more price sensitive. PIs are usually able to offer a cheaper price for the same model compared to the Authorised Distributer (AD). This can be attributed to the lower operating overheads for PI car dealers.
The second reason people are drawn to PIs is the availability of model variants not carried by the ADs. The clearest example is the
Honda Vezel
- a Japanese domestic market model initially not available from Honda AD Kah Motor. It ended up as the best-selling car model for 2016.
However, some buyers may still be hesitant to buy from PIs, and this is understandable. Over the years, we have all heard horror stories of dealers reneging on agreements, customers shocked by hidden costs and late deliveries, and even dealers who shut up shop after collecting deposits.
Here, we point out six things that you should take note of when buying from a PI to safeguard your purchase:
1. Schemes that lack guarantees


Dealers normally offer a range of Certificate of Entitlement (COE) packages (and a range of prices, accordingly), and it is important to be clear as to what each scheme offers. When it comes to COE packages, Mr. Derek Low, 47, Director of Venture Cars Pte Ltd, highlights that it is important to ask for a guaranteed COE package without top-ups, with a fixed bidding period tied to the number of bids.
For example, a six-bid guaranteed COE package should be stipulated to be secured within three months. "It's important that the dealer will secure the COE within a specified time frame," he says. "If not, there are cases where the bidding is dragged out over a long period, sometimes even more than one year."
Once the COE is secured, the dealer has up to six months to register the vehicle, so you should make sure that within the sales agreement, there is both a timeline to secure the COE, and a timeline to deliver the registered vehicle to you.
2. Dealer does not offer 'VAC Ready Stock'


A 'VAC Ready Stock' car is one that has undergone all the necessary checks and homologation by the Land Transport Authority (LTA), and has the full paperwork ready. This means that the car is fully certified for Singapore, and only requires a COE and registration for it to be on the road. For a dealer to get a vehicle VAC ready, it easily takes six months from the point of ordering the car from his supplier.
"Buying a 'VAC Ready Stock' car is advisable," says Mr. Low. "It is inventory you can see with your own eyes." This offers the buyer a peace of mind - effectively, it is physical stock in the showroom that you can inspect, and what you see is what you get. Think of it as an off-the-shelf purchase. If you buy from a dealer with 'VAC Ready Stock', in the best case scenario, you can take delivery of the car in as quickly as a week.
Mr. Marcus Yap, 45, Director of Leco Prestige Pte Ltd, points out that buying 'VAC Ready Stock' is advisable as the perceived risks are lower. It reduces the entire duration of the car buying process, and a shorter waiting time generally translates to reduced risks, with lesser opportunities for issues to occur.
To verify if a particular car is 'VAC Ready Stock', the key document you must ask to see is the LTA letter of approval. The document will include details such as the car's make and model, as well as engine and chassis numbers. This lets you verify that the car you are purchasing has passed all the necessary LTA inspections and is ready to be registered.
To help car buyers, sgCarMart has updated its New Cars listing to include verified ready stocks for makes like Honda, Mercedes-Benz and Toyota.
3. Too good to be true prices

Be wary of 'incredible' prices - as the saying goes, 'if it seems too good to be true, then it probably is.' Make sure to do your necessary market research on sgCarMart, which lists down the recommended retail price (RRP) of parallel imported cars based on guaranteed COE without top-ups. If the dealer is offering a price significantly lower than that, you should approach the deal with caution.


4. High deposit required

To minimise your risk, you should always demand to pay the lowest possible deposit. If the PI is asking for a high deposit, that should raise concerns about their cash flow.

Mr. Low points out to us, "There are no fixed rules or specific industry norms when it comes to deposit." However, according to him, a reasonable amount is to pay approximately 20 percent of the vehicle's Open Market Value as a deposit. This 20 percent figure is reasonable as that is usually what the dealer will pay to the supplier when purchasing the car. On top of that, the dealer will also ask for a COE deposit of $10,000. This is the amount the dealer will need to deposit with LTA in order to bid for the COE under your name.

5. Company lacks information and reputation

It's tempting to overlook a company's reputation and be drawn to an attractive sticker price. But reputation matters - yes, you may have to pay a slightly higher price, but it's definitely worth it. Buying from a CaseTrust-accredited company is a good way to minimise risk - it means that CASE will help you in the event of any dispute.


6. Verbal agreements that are not written in the sales agreement

This can cover a wide range of things, but if the salesperson promises you something, it's paramount that you get that down in writing. Mr. Yap tells us, "A written sales agreement is a must as it is a contractual document between the buyer and seller that should clearly state the actual car model description with full details - colour, upholstery, options, accessories, COE bidding, expected delivery timeline, price, payment terms and schedule."

The key is to remove as much ambiguity from the process as possible. "It's a commitment between the two parties that can be used as a record of what has been discussed, negotiated and agreed since actual car delivery may take a couple of months," adds Mr. Yap.


According to Mr. Yap, "With social media, buyers today are generally very well informed and careful when it comes to buying cars, especially after a number of incidents with dealers absconding with the buyers' money."

Mr. Low tells us, "Nowadays, buyers are much savvier; they don't just go for the lowest price anymore. People are generally being more careful in doing their research, with forums and social media becoming increasingly popular ways to hear honest opinions and stories about various dealers."

When buying a PI car, the onus is on you as the buyer to do your due diligence and be extremely thorough when doing your research. With a multitude of resources available, it's much more convenient nowadays. As PI car dealers look to further increase their market share, there are definitely attractive deals available to buyers. Thus, if and when you do decide to purchase a PI car, make sure to keep the above six pointers in mind.


Related Categories
Recommended Merchants(View all)