New car owners are often too preoccupied with processing their vehicle purchase. This article is a good checklist of the things you probably need in your car.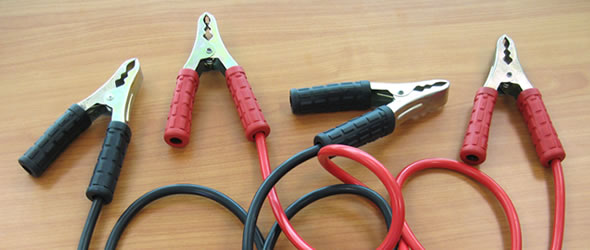 If your battery goes flat, these "summon cables" can come in very handy.
No excuses for you not to get one, each set cost just $10.
New car owners are often too preoccupied with processing their vehicle purchase. Below is a good checklist of the things you probably need in your car. Do make sure you have them in your car at all times.
•
Parking Coupon
is a must unless you want to risk being booked by the parking wardens.

Most cars comes pre-equipped with warning triangles. You should place them 20m behind your vehicle if it breakdowns.

•
Cash Card
is necessary since ERP is found in many places around Singapore. Most carparks these days are also operated using the Integrated Unit System. A cashcard is needed for payment.
•
Petrol Kiosk Privilege Card
should be easily available. Considering that you will be frequenting the petrol kiosk, you do not want to lose out on the privileges provided by the station.
•
Street Directory
is especially important if you have a poor sense of direction or are unfamiliar with the roads. Singapore may be small, but you can still get lost.
•
Breakdown Triangle
is essential so that you can warn others in advance of your dysfunctional vehicle.
•
Torch Light
in case your car breaks down in the middle of a dark road.
•
Toolkits
such as screw drivers and spanners are mandatory for all cars. You never know when your car might break down.
•
A can of air pump
(for tyre) will come in very useful in the event that your car tyre deflates on the expressway.
•
Coolant/ Water
is indispensable if you are driving an old car. What will you do if the cooling system of the car suddenly dries up?
•
Camera
is crucial in case you get involved in an accident. A mobile phone camera or disposable camera is sufficient for this purpose.
•
Pen & paper
can be used to jot down important information. In case of an accident, you need it to record down the other party's information.
•
Summon cable
will be very useful if your car battery conks out on you.
•
Handsfree kit
is very useful for making and taking calls when driving. The penalty for using a mobile phone while driving is pretty harsh. Do not take risk it.
•
A piece of cloth
to wipe off dirt marks which can be hard to remove if not wiped off immediately. To wipe off the stain easily, you should apply some water.
•
Tissue
so that you can check your engine oil regularly.
•
Umbrella
for stormy weather.
The following are not required in the car at all times. Nevertheless, you should get them
•
Car shampoo
to remove tough stains on the car. A good way to maintain your car paintwork is to wash at least once every three days. However, if your car is always very dirty, do increase your frequency of car wash.
•
Pail, Sponge and Cloth
to wash the car.
•
Handheld Vacuum Cleaner
can come very handy for cleaning up dust, dirt, sand and grass in your car.
No idea where to get these products
Visit our
Motoring Directory
to search for your nearest merchants.
Related Categories
Recommended Merchants(View all)