---
Different insurance companies may quote different premiums for the same car and driver whenever you renew your insurance. Why?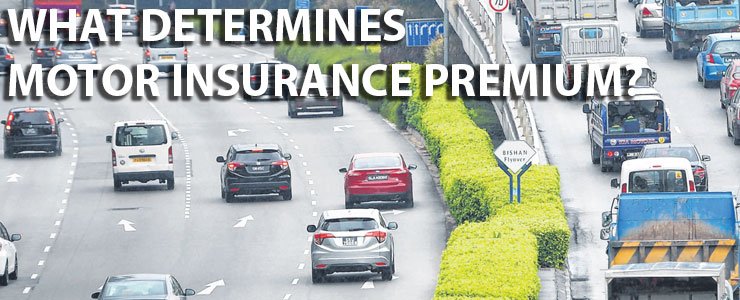 Do you know that you do not always get the same premium whenever you renew your vehicle's insurance? Different insurance companies might also quote different premiums for the same car and driver. This is because the premium charge hinges on a number of factors, which are determined by the individual companies based on their own assessment.
The guide below will give you an insight on how insurance companies derive the premium they quote. If you were thinking of filling in some false details in order to lower your premium, think again. This is because if any provided information is inaccurate, the insurance company could refuse to pay for damages when necessary.

Factors affecting insurance premium
'Comprehensive' packages are the most expensive. That is followed by 'Third party fire and theft'. 'Third party' packages are the cheapest. Additional options such as 'windscreen protection' and 'NCD protector' will increase the premium charges.
Vehicle's age
The newer the car, the more expensive it is to insure it. Older cars are cheaper to insure as insurance companies usually use reconditioned old parts to repair cars more than three years old.  
Vehicle capacity
The larger your engine capacity, the more expensive your premium. Higher capacity cars tend to be more expensive models and will be more costly to repair. It is also more difficult to control higher capacity cars and rate of accident is higher. When accidents occur, they tend to be more heavily damaged due to their higher power.
Type of vehicle
Coupes and turbo-charged cars are expensive to insure for very much the same reason as high-capacity cars. Off-peak cars cost lower to insure as they are seldom on the roads, and are thus of lower risk.
Vehicle model
This may be surprising, but insurers do quote different premiums for different makes and models of vehicles. This is a very ambiguous field. The insurance companies have their own records of which car makes are more frequently involved in accidents, which car makes cost more to repair and so forth. They will then quote based on their database.
Driver's driving experience
Inexperienced drivers with less than two years of experience are charged heavily due to their perceived high risk. For those with driving experience of two years or more, premiums are usually low. However, there is a limit as to how much the premium goes down by with driving experience. Usually, there is no difference between the premium of a driver with 30 years experience and one with only three years.
Driver's age
Young drivers are perceived to be hot-blooded and reckless. As such, those below 26 years of age pay significantly higher premiums than older drivers. The cap for the decrease in premium with age is about 40 years old. Above that, premiums usually stay the same.
Driver's gender
Female drivers usually receive a lower quote for premiums. Perhaps they are perceived to be safer drivers.
Driver's occupation
Occupations, which require the driver to drive often will incur higher premiums. Jobs which involve a higher risk of damage to the vehicle will naturally incur higher premiums too. Examples of such are outdoor sales, construction site related jobs, renovation work, etc.
Driver's previous claim
A driver who has made numerous claims in the near past cannot expect to have a low premium as he will be classified as a high-risk driver. The insurance companies will usually ask the driver to declare his claims over the past two years.
Most insurance companies do not accept customers who go to them directly. They work through insurance agents as they believe doing so will be more cost-effective.

Insurance Discounts
No-Claim Discount (NCD)
If you have not made any claim for at least one year, you are entitled to a No-Claim Discount (NCD) when you renew your insurance. The awarding of NCD is an industry standard practice. It can be brought along to another insurance company in the event that you wish to switch company. Your NCD increases by 10 percent for every year without a claim. It can rise up to a maximum of 50 percent.
Private car policies
Period of insurance with no claim
Discount on renewal
First year
10 percent
Second year
20 percent
Third year
30 percent
Fourth year
40 percent
Fifth year
50 percent
Certificate of Merit discount
The Certificate of Merit (COM) entitles a driver to five percent discount on vehicle insurance premium from participating insurance companies, on top of the No-Claim Bonus (NCB).
If a driver has maintained a demerit-point-free driving record for the past three years, he is eligible for a COM at the point of purchasing a 
car insurance
 coverage. In other words, if a driver earns himself demerit points in the three years preceding an insurance purchase, he will no longer be eligible for a COM on the day, which he purchases the insurance.
Do note that this five percent discount is to be deducted only after your NCD has been counted.

Your premium before discount is $2,000.  
You have an NCD of 50 percent. You also have the COM discount of five percent.
 
The Nett premium you will have to pay will be $2,000 x 50% x 95% = $950


The total discount you enjoy is 52.5 percent, and not 55 percent.
List of participating insurance companies
Loyalty discounts

Some insurance companies provide loyalty discounts for customers after a period of time (usually one year). The discount is normally five percent, but it varies from company to company. Some companies do not offer loyalty discounts.


| | |
| --- | --- |
| | AGF Insurance(Singapore) Pte Ltd  |
| | American Home Assurance Co  |
| | |
| | Tenet Insurance Company Ltd  |
| | Cosmic Insurance Corporation Ltd  |
| | Eagle Star Insurance Co Ltd  |
| | |
| | First Capital Insurance Ltd  |
| | India International Insurance Pte Ltd  |
| | Mitsui Sumitomo Insurance (Singapore) Pte Ltd  |
| | Kemper International Insurance Co(Pte) Ltd  |
| | |
| | L'Union Des Assurance De Paris I.A.R.D  |
| | |
| | New Zealand Insurance Co Ltd  |
| | Nippon Fire and Marine Insurance Co Ltd  |
| | MayBank General Assurance Bhd  |
| | Overseas Assurance Co Ltd  |
| | China Insurance Co (Singapore) Pte Ltd |
| | Provincial Insurance Asia Pte Ltd  |
| | QBE Insurance (International) Ltd  |
| | |
| | Winterthur Insurance (Far East ) Pte Ltd  |
| | Zurich Insurance (S) Pte Ltd  |
| | Liberty Insurance Pte Ltd  |
| | |
| | London and Pacific Insurance Co Bhd  |