The facelifted Mercedes-Benz CLA-Class continues to be a handsome, refined and easy-to-use car adorned with an appealing badge.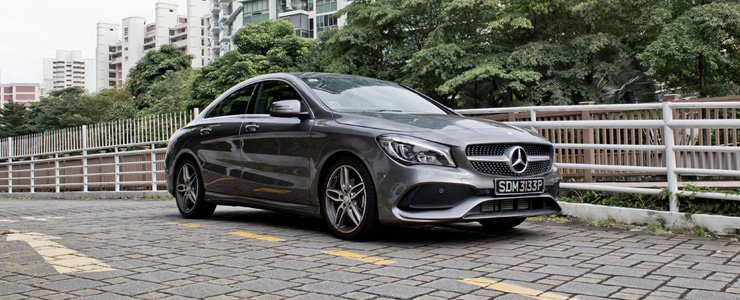 It used to be easy to categorise things. You either wear jeans, or you wear leggings. Now, there are things known as jeggings. With an increasing number of sub-categories for everything, it can be pretty damn confusing. There's even a band in Chicago that plays a genre of music called jazz-metal. Go figure.
Cars aren't immune to this sort of category amalgamation either. Case in point - this
Mercedes-Benz CLA-Class
.
What is it, then?
Well, it's built on the same modular front-wheel drive platform as the
A-Class
and the
B-Class
, so its roots are in Mercedes' compact car range. Mercedes calls it the CLA Coupe, but that's something of a misnomer - it may have a raked roof, but it still has four doors. A compact sedan is probably the best description. For all intents and purposes, you can think of it as a baby
C-Class
.
It looks familiar. I must have seen some on the road already
You most certainly have. The model was first launched in 2013, and when we first drove it, we thought its combination of sleek, attention-grabbing style and a composed and easy drive made for an attractive package sure to appeal to drivers seeking the three-pointed star badge.
The car you see here has undergone a mid-cycle refresh, and we don't blame you if you can't actually tell. On the outside, changes are subtle - restyled front and rear bumpers, LED headlamps and wider chrome-plated tailpipes are there for you to play spot the difference.
So what's actually new?
A lot of the car is admittedly unchanged. It's certainly easy to think that it's the same car from three years back, but work has been done to bring the interior up to date. There is now ambient lighting with 12 colours, and the centre console has also been cleaned up slightly. The flat-bottomed steering wheel is new, with additional button functionality as well (12 in total).
The one change that will certainly draw your eyes to it is the freestanding 8.0-inch media display - it's much slimmer than before. All in all, it's as refined on the inside as it is pretty on the outside.
Has the car been changed mechanically?
For the oily bits, no. The engine is still the same - a 1.6-litre turbocharged engine providing 154bhp and 250Nm of torque. It's an easy drive, with the engine capable of all but the most enthusiastic of overtaking manoeuvres. The ride is comfortable enough, although we will admit the lowered comfort suspension isn't to our taste - the ride was a tad too bouncy for our liking.
The electric bits have been updated, though, to ensure your driving safety. Key among them is Active Brake Assist, which is able to trigger autonomous braking to reduce the danger of collisions. You can also ask the car to help you park with Parking Pilot.
What has this facelift done for the CLA-Class' appeal?
Honestly, if the answer is simply nothing, we think that's already a win for Mercedes. The CLA-Class is an attractive and relatively affordable compact sedan for people looking to own a piece of premium German machinery.
But it's certainly not nothing. With the facelift, the CLA-Class is updated to 2016 standards, and continues to rank high in terms of appeal. It's certainly an easy car to live with - easy to drive every day, reasonable on your pockets, and sufficiently practical. Yes, there are some quibbles, but they are entirely forgivable.
But perhaps more importantly, it's an excellent car to have - with the big three-pointed star looming large on its handsome face, the CLA-Class is a statement piece. Yes, you may meet the occasional keen-eyed naysayer who will comment that it's a 'baby C-Class' or 'C-Class-lite', but to most people, it's just a handsome, dashing Mercedes-Benz. Who cares about sub-categories anymore, eh?
Engine Type
:
4-cylinder in-line 16-valve Turbocharged
Horsepower
:
115kW (154 bhp) / 5300 rpm
Torque
:
250 Nm / 4000 rpm
Transmission
:
7G- DCT (A)
Acceleration (0-100 km/h)
:
8.5sec
Fuel consumption
:
17.9 km/L