The Mercedes-Benz C-Class Cabriolet C300 is a handsome-looking and easy-going convertible cruiser that is sure to draw appreciative stares.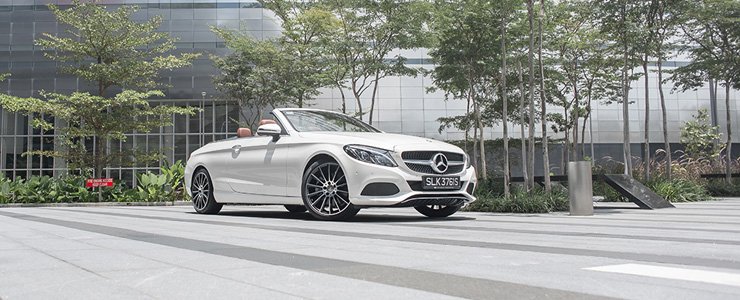 The idea of buying a convertible in Singapore is often mocked for being a ridiculous notion. Given that our climate largely consists of either blazing sun or pouring rain, buying a convertible seems pointless given that the roof will spend most of its time close. But nonetheless, people still buy convertibles anyway.
Why, though? Simply put, a convertible is unquestionably cool. At one extreme, you have cars like the
Mazda MX-5
or the Honda S2000 - acclaimed roadsters that enthusiasts clamour after for their pure driving experience. At the other extreme sits expensive convertible sports cars like the
Audi R8 Spyder
or the
Porsche 718 Boxster
. And in between those two extremes sit cars like this one - convertible saloons like this Mercedes-Benz C-Class Cabriolet C300.
Hey there, good looking!
The C300 Cabriolet is certainly an eye-catching car, with a sharp front fascia and muscular shoulder lines. Four-seater cabriolets in the past tended to look boat-like with the roof down, but this Merc certainly doesn't. It looks handsome and stylish, though we must admit it looks much better with the roof down than with the roof up. The droopy backside works with the roof down, but with the roof up it looks somewhat odd.
This is a great car to be seen in, and also to look out of. If you are the sort of person that enjoys cruising down Orchard Road hollering "Hey there, good looking!" at pretty girls, this is the car to do it in. It's premium enough that people know you have done well in life, but not too flashy such that you come across as a pompous douchebag.
Get in, and you are greeted by characteristic Mercedes quality. Plush leather, well arranged buttons and sensible controls make for an easy and comfortable experience. The soft-top can also be operated while on the move at up to 50km/h, and takes 20 seconds to open or close.
Smooth sailing
The C300 Cabriolet packs a 2.0-litre engine producing 245bhp and 370Nm of torque. It's muscular and offers more than sufficient power. Unlike the
C200
, it never feels lacklustre or struggling for breath at higher speeds.
On the go, it's a fantastically pleasant experience. The car rides well over bumps, the sound buffeting with the roof down is fairly acceptable with the effective Aircap wind deflector, and with the roof up it's serenely quiet. This is a car that will swallow tarmac with ease, and is definitely more of a cruiser than a sports car. For ballistic outright pace, Mercedes has the
C 43
and the
C 63 S
.
Cabrio can boh?
Buying a four-seat cabriolet is always going to be a contentious decision. It's hard to justify needing a soft-top in Singapore, but there's no faulting wanting one. And driving the C300 Cabriolet certainly makes us want one. It makes us want to put on our nicest leather shoes, throw on a floral print shirt and whip out our aviator shades, and get in and drive.
This car is easy to love. It will definitely attract stares whether you want them or not (and we suspect people who drive such cars appreciate being stared at). This is no purists driving experience. Rather, it's a pure display of style and showmanship, and there's absolutely nothing wrong with that.
Engine Type
:
4-cylinder in-line 16-valve Turbocharged
Horsepower
:
183kW (245 bhp) / 5500 rpm
Torque
:
370 Nm / 4000 rpm
Transmission
:
9G-Tronic (A)
Acceleration (0-100 km/h)
:
6.4sec
Fuel consumption
:
14.5 km/L