---
The world's favourite roadster is back to thrill us with its extremely lively dynamics that will deliver infinite smiles per hour.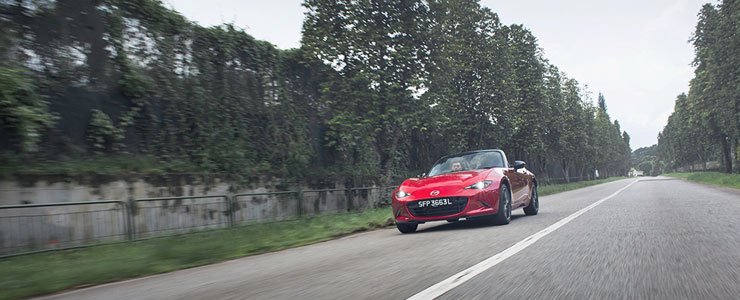 Automakers today are competing in an arms race to see who can engineer the most powerful engines with the best efficiency and technologies that make even the Samsung Galaxy Note seem primordial.

As a result of that struggle, we get cars that feel more like computers. Don't get us wrong, it's nice at times not having to worry about parking in tight spaces because the car's camera and warning systems will assist you with that but more often than not, that amount of assistive technology takes the fun away from driving.

I woke up last Friday knowing that it was going to be a good day. Those positive vibes weren't caused by waking up on the right side of the bed or because a freshly brewed cup of coffee was waiting for me the moment I got out of the shower. No. I knew that my Friday was going to be great because it would be spent behind the wheel of Mazda's all new MX-5.


Now in its fourth generation and code named ND, the Mazda MX-5 is one of a dying breed of cars that are naturally aspirated and built for one purpose and one reason only - for pure driving pleasure.

Being a technophobe, I usually spend about 10 minutes in modern cars trying to figure out which button does what. But in the MX-5, I adjusted my seat, steering and mirrors well under five and was ready to greet the open roads.

Exterior

According to Chief Designer Masashi Nakayama, the ND MX-5 was crafted with a little more masculinity in mind to ditch its cutesy 'hairdresser's car' image while maintaining its compact shape.
Not only did that shift in design direction create the sharpest looking MX-5 in its 26-year history but also makes it easily recognisable as a Mazda since it shares the same 'KODO: Soul Of Motion' design cues as the rest of the company's fleet.
The MX-5 is the type of car that almost immediately captures your heart and stirs your soul from whichever angle you approach.
Mazda's redesigned lowered bonnet and pulled back A-pillars give the car a lower and wider stance while an aggressively styled pair of LED headlamps acuminate to the large front grille.
But it is the MX-5's perky rear end that really tickles Nakayama's fancy and we thoroughly feel the same way. Together with its low-slung proportions and bulged fenders, the MX-5 creates a picture perfect fluid silhouette.
This model is no longer being sold by local distributors
Engine Type
:
4-cylinder in-line 16-valve DOHC SKYACTIV-G
Horsepower
:
118kW (158 bhp) / 6000 rpm
Torque
:
200 Nm / 4600 rpm
Transmission
:
6-speed (A) with manual control
Acceleration (0-100 km/h)
:
8sec
Fuel consumption
:
14.9 km/L