The sale of a car can be quite a nightmare, but don't worry, here's an updated guide on how to make your sale experience more financially sensible.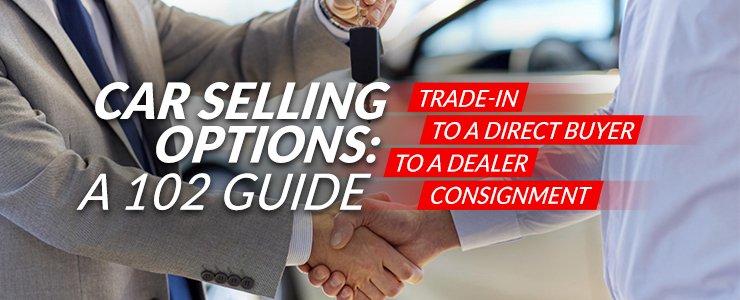 Every once in a while, you read about a tempting new car or chance upon a dream pre-owned one up for sale on
sgCarMart.com
, and you know what must be done - get rid of the old and make way for the new.
Now, there are a number of ways to conduct the sale of your car. In the past, you would go to a used car dealer or try your luck by posting a sale advertisement in the newspapers. But, times have changed and so have your options. Today, cars can also be sold via trade-ins, using online mediums like sgCarMart to direct buyers, and through consignment schemes.
The sale of a car, from personal experience, can be quite a headache. We've touched on this
topic
before, but here's an updated guide on how to make your sale experience more financially sensible.
1. Selling via trade-in

If you have already found a car you want to buy, you may consider trading in your existing car to the dealership. When you trade-in your used car for a new one at an authorised dealer, your car is very likely to end up at a used car dealership because authorised dealers like Kah Motor (Honda's local distributor) work hand-in-hand with used car dealers, who handle most trade-ins.
Selling via trade-in is the most convenient and easiest way to sell your car, as the dealership will handle all the loan, paperwork and ownership transfers, as well as time the handover of your existing car, together with the delivery of your new car. The value of your existing car can also be used to directly offset the down payment of the car you are purchasing.
Another benefit of trading-in your car is over-trade, a practice in which car firms offer a higher trade-in value for used cars than the prevailing market rates. This practice helps car buyers tide over the large sums of down payment limited by MAS loan restrictions. You can read more about the
current car loan guidelines
here.
As an illustration, when you buy a $200,000 new car, you'll have to cough up at least $80,000 (40 percent) as down payment. In an over-trade transaction, the dealer will raise the car price to $210,000, and at the same time offer you $10,000 more than what your trade-in car is worth. Although you now need to pay $84,000 for the down payment, you'll receive an additional $10,000 more for your trade in.
Hence, effectively, you only need to fork out $74,000 for the down payment.
This practice is prevalent amongst distributors of premium marques like Mercedes-Benz and BMW.
The downside to trading-in your vehicle is that you typically get a lower value than what your car is really worth. Reason being, most authorised dealers source for only three to five quotations for your trade-in vehicle. With such little competition, the offer won't be high. In addition, the authorised dealership takes a cut of your trade-in car's value for acting as a broker.


2. Selling to a direct buyer

Selling your vehicle yourself to a direct buyer guarantees you the most financial returns but it takes time and comes with a little paperwork hassle. When selling to a direct buyer, you'll need to advertise on a tested and proven advertisement platform. Well, what's more effective than posting an ad on sgCarMart.com?
Over 200 cars are sold on sgCarMart each day. As a testament to its popularity, 96.2 percent of all car sellers list their cars for sale on sgCarMart. This is hardly surprising as over nine million searches are made every month on sgCarMart, making it the car portal with the highest traffic in Singapore for seven years running.
An ad on sgCarMart.com costs just $58 until it's sold with a full dedicated page - sufficient space for even the smallest of details. With online advertisements, you get more freedom to advertise your sale with attractive pictures to show your car at its best, and include detailed descriptions that would enhance your car's selling price.
An inconvenience of selling direct is the amount of sales enquiries you have to handle and also the paper work involved after sealing the deal. To ease your burden, essential documents for the transaction are postal-mailed to when you list an ad on sgCarMart, inclusive of sales agreements, test drive indemnity forms, handover forms, and payment receipts.
Once you have agreed on a deal, sgCarMart Connect can help the buyer of your car apply for a loan, settle your outstanding loan if any and apply for an insurance refund, draft legal documentation for both parties, and protect the buyer by providing a car condition report. sgCarMart Connect can be contacted at 6744 3540.
Click here to
post an ad on sgCarMart.com
.
Click here to
find out more about the sgCarMart Connect service
.
Related Categories
Recommended Merchants(View all)