Here are some car selling hacks that sgCarMart Quotz has devised from selling more than 15,000 cars in the past 10 years, to help you achieve the maximum value.
With over 15,000 cars sold to used car dealers, sgCarMart Quotz has a wealth of experience (10 years' worth in fact) and knowledge in the used car industry and we've decided to impart some 'selling-your-car-hacks' that dealers usually look out for and will even offer a higher bid price than what you might expect to receive!
Backed by ten years of data and sage advice from our vehicle inspectors, you'll catch a used car dealer's eye if:
1. You drive a Toyota or Honda
Toyota and Honda are ranked 1st and 2nd respectively regarding dealer popularity (based on our 2017 transactions with dealers).
"Japanese cars are more attractive to used car dealers because of a couple of factors. They are easy to maintain, more affordable, can fetch a higher resale value because of their popularity with Singaporeans and are easy to service" - Billy, Senior Vehicle Inspection Officer, Quotz.
If you don't own either a Toyota or a Honda, check out where your respective brands are on our 'used car popularity chart'.
With Toyota ranked as the most popular brand, it would come as no surprise to know that the
most popular car
for dealers in 2017 was the Toyota Altis (The Altis made up 18% of Toyotas sold with Quotz in 2017).
2. Your car is in Pearl White, Black or Grey/Silver
Unless you have a brand that produces cars in iconic colours, like Ferrari's Red (Rosso Corsa) or Lamborghini's Green (Verde Ithaca), you might want to stick to popular and safer colours like Pearl White, Black or Grey/Silver colours (sounds like my wardrobe colour scheme). Oh, and the occasional red for festive occasions like Chinese New Year!
"The safe colours are Pearl White, Black, Grey or Silver. Dealers also like these colours because they are very sellable. You can have two same car models, but one can be pink/green/yellow while the other is black or silver and 100% of the time, dealers will give a higher bid price for the black or silver car" - Billy, Senior Vehicle Inspection Officer, Quotz.
3. You do not have unorthodox modifications
Performance modifications might have been a factor for resale value ten years ago when they were all the rage (remember the EVO and STI rivalry?). However, at present, if you want your car to give you the maximum resale value, it would be best to keep it as stock as possible.
On whether dealer's preferred stock or modifications, Jeremy, another one of Quotz's Senior Vehicle Inspection Officers said, "dealers are less interested in how much you've thrown into 'upgrading' your car as opposed to how much they can sell your car for. $10,000 sound system? No thanks! They would rather you uninstall the sound system and reinstall the original one."
However, if you feel the urge the modify your vehicle, you might want to stick to the in-house tuning for specific brands like:
Mercedes Benz - AMG
Toyota - TRD
BMW - M
Volvo - Polestar
Nissan - NISMO
Audi - quattro/Audi Sport
These in-house tuning companies can add value to your car as they are recognised and associated with their respective brands.
4. You keep your car in accident-free conditions
Naturally, if your vehicle is accident-free, it'll fetch a higher value as opposed to a car that has been in an accident before.
Think of your car as if it were a human body. Your body can quickly recover from bruises and bumps but if you encountered a ligament tear, fracture or maybe even organ failure, those ailments would take a much longer time to heal, and it wouldn't be the same anymore.
For vehicles, accident-free means that there was no damage done to major components like the chassis and/or engine. Minor bumps and scratches on the doors or paintwork will not affect your resale value significantly.
You can further reduce a dealer's hassle by paying attention to small details like keeping the interior of your vehicle clean and ensuring the paintwork is undamaged.
Mileage is also another crucial factor that dealers look out for when you've put your car up for auction. The average vehicle in Singapore travels about 16,000km per year (for your information). 
5. You bought your car from an Authorised Distributor instead of a Parallel Importer
Authorised Distributors (AD) are companies that have exclusive distribution rights for specific car brands from the manufacturer of the vehicle. For example, KIA's AD is Cycle and Carriage, and Honda's AD is Kah Motor.
On the other hand, Parallel Importers (PIs), purchase directly from the factories producing the vehicles and then import them to Singapore. Their cars are generally cheaper because they don't have high overheads compared to ADs.
Dealers are more inclined to take in cars bought from ADs as opposed to PIs due to several reasons:
Most PIs use third party workshops. While third party workshops are adequate for routine repairs and servicing, if there's a major electronic fault, they are not sufficiently equipped and lack the necessary know how to fix the problem. (This is true especially for European cars)
Third party workshops also have limited access to brand-specific parts and components that AD workshops would readily have. 
Therefore, if you have a car that you bought from an AD, you have the choice of going to the less expensive third party workshops for minor repairs and/or servicing, and you can also go to the more expensive but competent AD workshops for the major issues. However, if you have a car from a PI, AD workshops won't give you the time of day.
Fit the bill?
If your car hits all five tips mentioned above, good news, car dealers want your car! If you want to get the highest possible quotation for your car, you've got to visit sgCarMart Quotz to receive a FREE quote. Quotz guarantees you'll receive the highest bid price for your car in Singapore.
How?
sgCarMart Quotz utilises a sell-by-bidding system where car owners can auction their cars to 500+ dealers. In this system, a notification will be sent to these dealers via their back-end for every vehicle that comes in for auction. As a subsidiary of sgCarMart, the number 1 car site in Singapore, sgCarMart Quotz has almost 90% of all local dealers in their system. Therefore, receiving the highest price your car can fetch is nothing short of a guarantee.
If you can somehow find a better market offer price in Singapore, you'll even get $100 cash!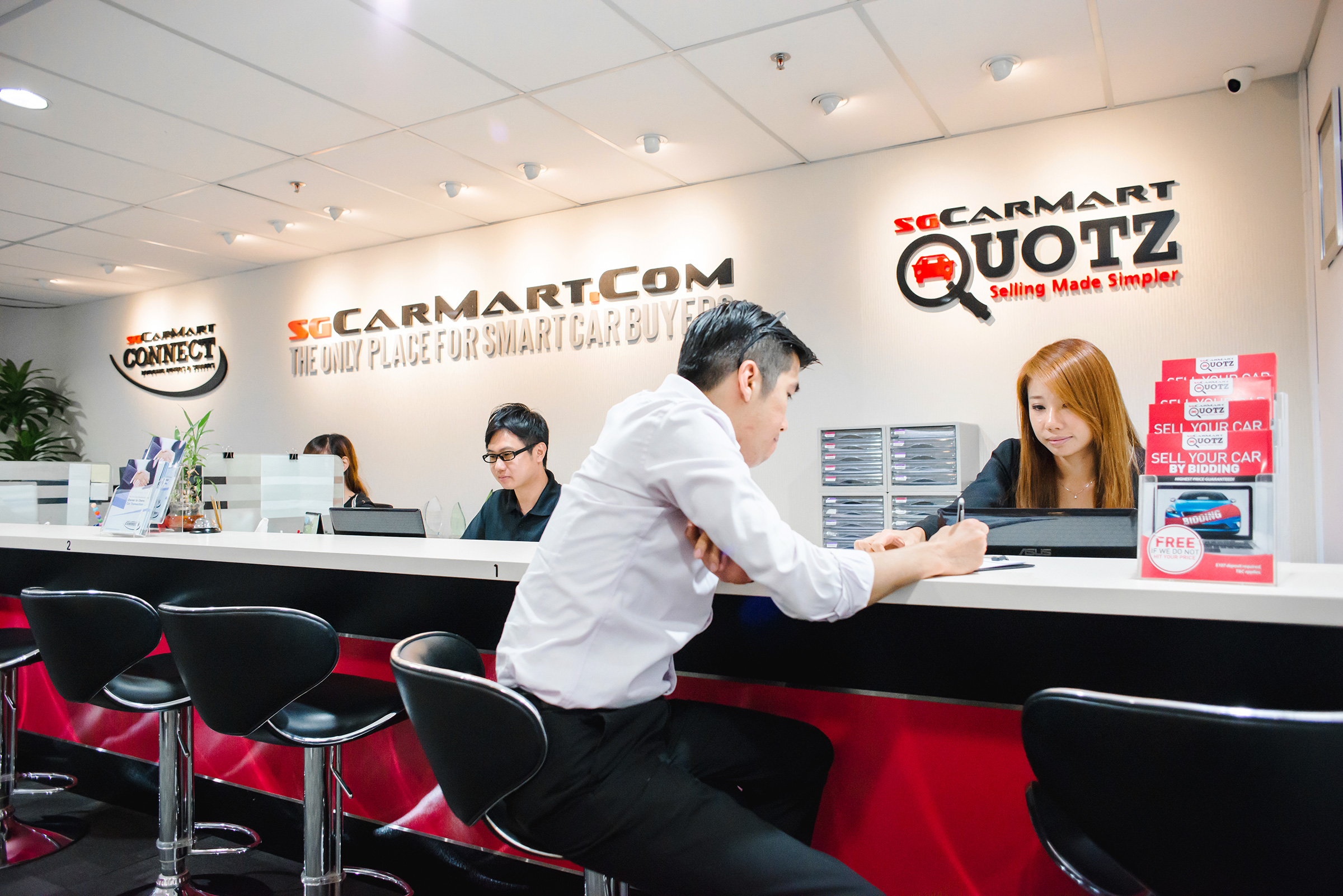 Sell your Car for more Cash
Auction your Car to 500+ Dealers Islandwide. Done in 1 Hour

Highest Selling Price Guaranteed Or Get $100 Free!

Get Cash Immediately, Handover Car After 2 Weeks.

Let 500 Dealers+ Bid For Your Car, with No Obligations To Sell.
Related Categories
Recommended Merchants(View all)