This year, the 10th edition of the sgCarMart Car of the Year competition sees a total of 81 shortlisted cars vying it out across 29 individual categories, with one car eventually emerging as sgCarMart's 2019 Car of the Year. Over 10 years, the annual sgCarMart Car of the Year awards recognise the efforts of the various car manufacturers in further advancing the industry and raising the bar in terms of design, performance, efficiency, versatility and value for money.
THESE SEVEN CRITERIA WILL CONTRIBUTE 5% TO THE TOTAL SCORE.

| | |
| --- | --- |
| * | The criteria mentioned above are based on the main variant of each model range. |
| ** | Only cars that have been launched and tested by 15th October 2017 have been considered for this year's sgCarMart's Cars of the Year competition. |

Our judges will evaluate the cars based on a total of eight criteria. The first seven criteria are:

| | |
| --- | --- |
| » | Average monthly views (model) on sgCarMart.com |
| » | Average price |
| » | Features (sunroof, push-start button, smart key, electric seats, etc.) |
| » | Performance (engine capacity, engine type, top-speed, acceleration, etc.) |
| » | Fuel economy |
| » | Size |
| » | Safety features |

The eighth criterion is where you guys, our readers, are involved. In order for fair competition to take place, Consumer Voting will hold a massive 65% of the total score, which means your votes play a huge role in determining the winners.

Our judges are always on the hunt for perfection, so be sure to pay extra attention to detail and overall professionalism. Our judges will be keeping a lookout for your votes.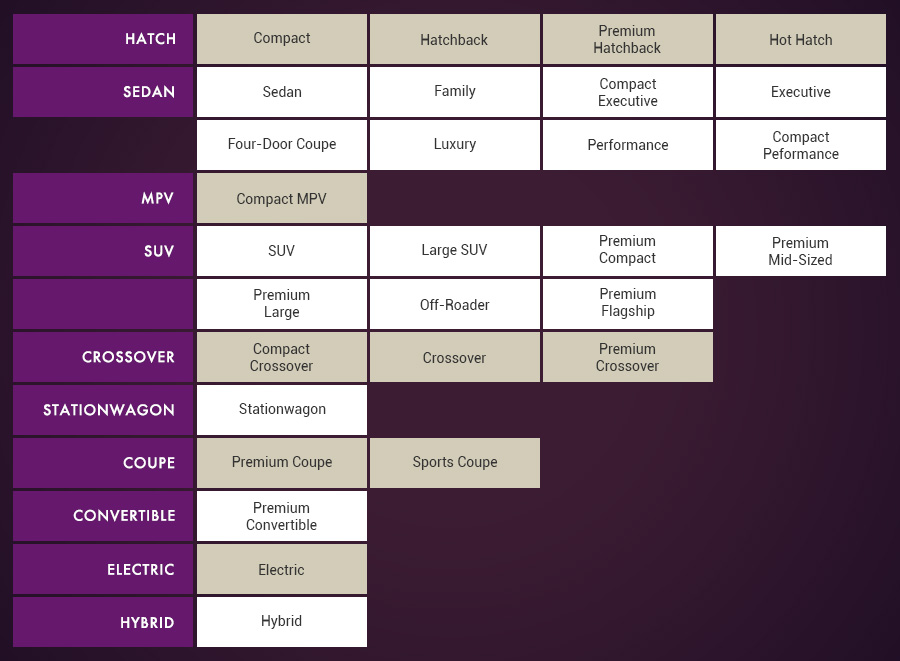 Yet another 12 months has gone by. With more than 100 cars driven, we've spent uncountable hours talking, mostly arguing, and of course writing about them.




In this 10th year of our sgCarMart Car of the Year competition, it is entirely fitting that unlike most years, this year has felt a little bit different. Whether it's malcontent over the VEP system, changes within the industry and even within the team, 2019 has been… busy, to say the least.




And even with cars, we've seen a distinct shift this year - much of the talk from many manufacturers this year has been about electrification. Having driven 5 brand new all electric models this year, it's clear that electrification is becomingly an increasingly important priority, not just for carmakers, but for legislators and other connected industries as well.




But, that's not to say that the future is entirely electric. In this 10th year of our awards, we've also expanded to include new categories such as the Premium Executive SUV and Off-Roader, a testament to the continuing popularity of SUVs.




Throughout the other 20+ award categories, all manner of cars are represented. We understand, after all, that cars are as diverse as the people buying them. And, as with each year, we have toiled hard to ensure the impartial nature of judging without compromising credibility. The cars are evaluated across a set of 8 distinct criteria, and all cars that qualify must be driven and tested before 15 October 2019.




Throughout the year, the Editorial Team has also continually grown and developed our capability to tell diverse and interesting stories that will continue to capture the imagination of our readers. And there is no doubt that heading into 2020, you can expect even more new developments that will further cement sgCarMart's position as Singapore's number one automotive portal.




So, as you make your way to the nominees' page and cast your votes for your favourite cars of 2019, remember that this more than simply a popularity contest. In recognising the various winners across the different categories, we are also identifying the ways in which these cars are setting the bar for the future - as we look forward to and embrace an automotive future primed for change, filled with excitement and always bursting with enthusiasm.




For the love of exciting cars, interesting stories and ice-cold beers,
sgCarMart Editorial Team