---
Troubled Swedish carmaker Saab has delayed production once again after discussions with suppliers over parts stalled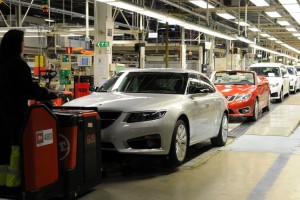 Saab had previously announced that it will resume production of its cars on August 9, but discussions with its parts suppliers had been delayed, and the Swedish carmaker has now announced that it will plan to start production at its Trollhatten factory at the end of August if it manages to secure short term funds.
Gunnar Brunius, Vice President of Production and Purchasing, said: "I am positive about the progress we made on the payment terms with our suppliers. What we need now is a full commitment on supply of parts into our factory to be able to restart production and secure a stable manufacturing operation. We are now working hard with our suppliers to nail down these plans, commit to a delivery schedule and start building the close to 11,000 cars that we currently have in our order books."
Saab's production had been stopped in April and May, with a brief resumption before halting again on June 8. During the past few weeks, however, the Saab had managed to secure financing from three different sources, making it possible to start paying its workers again and negotiate with its suppliers.