---
Subtle styling and modern technological updates in the refreshed Audi A6 Avant augment its all-around sensibilities.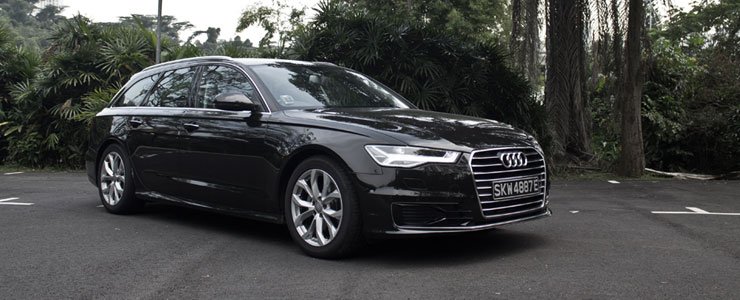 Find yourself a girl, and settle down / Live a simple life in a quiet town.
Despite our best efforts to try otherwise, as captured by the opening lines of The Raconteurs' 'Steady, As She Goes'
,
there will come a time where we all eventually grow older, wisen up and begin to settle down. There is only so long one can be the titular king of party-town.
This is certainly reflected in our changing tastes in cars as well. Hot hatch racers and sporty two-seater roadsters eventually give way to sensible sedans, practical wagons, as well as the flurry of compact crossovers and sports utility vehicles that we see on our roads.
First introduced back in 2011, the
Audi A6 Avant
combined the brand's signature elegance and a host of practical features for a family-friendly wagon aimed at the sensible adult. Four years on, the A6 Avant has undergone its mid-cycle update, and now that it is finally here on our shores, we take a look at how the model has advanced.
Up close and Personal
The Avant bodystyle is iconic of the brand, and while wagons are significantly less popular here compared to sedans, it no doubt possesses greater road presence than its sibling, the
A6 sedan
. With its distinctive rear end and flowing lines, the Avant looks arguably better than the sedan.
Physically and visually, the Avant has an added dimension over the sedan. The boot is obviously much bigger - 565 litres compared to the sedan's 530 litres. With the rear seat bench folded down, boot capacity rises to a generous 1,680 litres. Visually, the extra booty adds Kim Kardashian-esque curves, all the while still maintaining a sleek and clean overall look.
Instead of dramatic styling changes, Audi has focused on refining the lines on the Avant's body, while adding modern technology and visual cues to bring it up to date. At the front end, a restyled front bumper features chrome trimming that runs across the entirety of the car's front fascia, while Audi's Matrix LED head lights and dynamic turn signals come standard. At the rear, trapezoidal exhausts round out the modern update. These combine for a sharply contoured yet dynamically elegant look.
The elegant design continues into the spacious and high-quality interior, outfitted with materials that are soft to the touch.
The MMI system has also been updated, offering greater ease-of-use through a faster and more intuitive interface. One notable improvement is in the system's voice recognition capabilities. It responds quickly and intuitively, and you can spell out individual words, which is especially useful in Singapore with non-English road names like
Keong Saik Road
or
Kadayanallur Street
.
This model is no longer being sold by local distributors
Engine Type
:
4-cylinder in-line 16-valve Turbocharged
Horsepower
:
142kW (190 bhp) / 6200 rpm
Torque
:
320 Nm / 4100 rpm
Transmission
:
7-speed (A) S-tronic
Acceleration (0-100 km/h)
:
8.2sec
Fuel consumption
:
16.9km/L