Despite its flaws, and arguably because of them, the fun-sized Opel Adam is a stylish and captivating car that is full of character.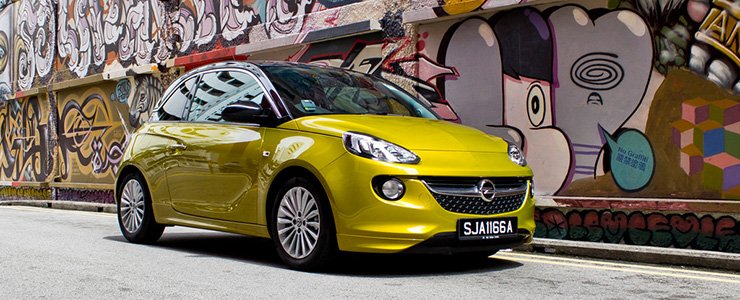 The Opel Adam is like Pikachu, a cute and well-known Pokemon character that has become a thing of an icon recently, thanks to the latest craze, Pokemon Go.


Of course, that would lead you to think that the Opel Astra could be a Charmander - another character from Pokemon that has a flame at the end of its tail - signifying how much of a fiesty little thing it can actually be.

Pokemon characters aside, the Opel Adam is more than just a cutesy car that will make kids or the fairer sex go gaga over it.

Exterior

At first glance, the Adam is certainly an eye-catching little automobile. Its diminutive, two-tone body is chock full of curvy sheet metal and pinched out lines, and we reckon that the Adam does not have a bad angle.

Certain details stand out - the sharp, angular taillights, the strip of chrome running just beneath the roof line that culminates at a Adam badge on the C-pillar, as well as the grinning front fascia. We also especially like how the wheels are pushed out right to the edges of its compact body.
Our test car came in a two-tone black/yellow paintwork, which most definitely has a Pikachu-vibe to it. Take a quick glance around the Opel showroom and you will realise that the Adam is also available in a variety of bold and eclectic colours, so it's a car that's certainly high on personality.
The car attracted tons of glances on the road during our time with it. Maybe it's the fact that most Singaporeans have never seen something quite like it before, or maybe it's just such a grin-inducing figure. For us, it's undoubtedly the latter because the car puts a smile on our faces each time we walked up to it.
This model is no longer being sold by local distributors
Engine Type
:
4-cylinder in-line 16-valve DOHC Turbocharged
Horsepower
:
64kW (86 bhp) / 6000 rpm
Torque
:
130 Nm / 4000 rpm
Transmission
:
5-speed (A) Easytronic
Acceleration (0-100 km/h)
:
13.9sec
Fuel consumption
:
21.3 km/L