Dripping with power and athletic acumen, yet shockingly comfortable, refined and usable, the new Mercedes-AMG E63 S rules supreme in the super saloon segment.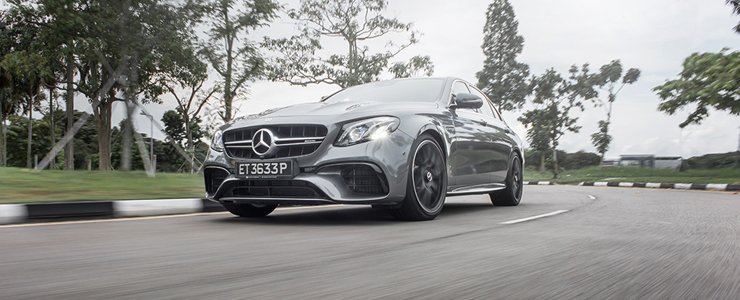 I recently drove the
Mercedes-AMG C63 S
, and came away irrationally in love. That car was ridiculous in every way, and I was enamoured with the sheer impracticality of it all. However, it was hard to convince myself that I actually wanted to own one. 
Here we have another '63' badged model, the new Mercedes-AMG E63 S. And I presume it's going to be similarly bonkers.
Not a subtle car is it? 
No, not really. The menacingly aggressive face of the car looms at you as you approach it. From the front and side, it's a fantastic-looking vehicle. From the rear, it does look a little tame, but don't let that fool you. 
Inside, the new generation
E-Class
cabin is one to behold. It's futuristic, comfortable, premium and exudes quality. It's a lovely place to be in, and we reckon one of the best cabins in the market right now. It comes standard wtih dynamic seats that grips you as you go around corners, and also has the ability to massage you while you drive. 
But is it still a crazy AMG? 
Yes, this is still very much a beast of an AMG. At the heart of the E63 S is a familiar 4.0-litre bi-turbo V8 engine, but with some important modifications - lighter pistons and air intakes, a charge air cooling system, and a pair of twin scroll turbos, which improves the engine response at low revs. This engine is an amazing piece of kit. It responds instantly to your throttle inputs, chases the red line with eagerness, and is dripping with power - 603bhp and an absolutely insane 850Nm of torque.
All that stonking power is matched by an intense noise - a mild burble at low revs, which crescendos to a crackling evil roar. It's a noise that will make chest hair grow on even the most pubescent of men.
Oh yes, and all that translates to frightening and epic speed on the road. 0-100km/h takes just 3.4 seconds. Let that sink in for a moment. No car that can practically seat five adults should be able to accelerate this quickly. You'll never fully exploit the car's insane power (blame the speed limits and crowded Singapore roads), but in bursts it is still endlessly exciting. 
Drift Mode. Tell me about Drift Mode
Ah yes, Drift Mode, the E63's party piece. With Drift Mode engaged (traction control off, race setting on the engine, pull both paddles), all of the power is sent to the rear wheels, allowing you to do tyre-slaying manoeuvres like doughnuts and burnouts. But to be honest, it's a mode best left untouched, unless you have access to some secret racetrack in Singapore that no one knows about. On our roads, there is no justifiable reason to use it. It's a cool little feature to impress your friends, sure, but four-wheel drive is where it's at. 
Why? Simple - traction. The excellent rear-biased four-wheel drive system allows you to throw the car into corners with reckless abandon without fear of soiling your pants. The steering is nicely weighted, sharp and precise, allowing you to really attack corners. The car corners so flat, with great balance, and with absolute stability. Also, there is a violence about the way the E63 is able to instantaneously change direction, but all of that is done in a manner that always inspires confidence.
Ok, I get it, it's fast. But is it actually usable?
Shockingly, yes. Comfortable and AMG were two words we never thought could co-exist, but here it absolutely does. In Comfort mode, the ride is firm, but pliant and forgiving, even on its big 20-inch light-alloy rims. 
The car is so refined and quiet (noise insulation is top-notch), and the acceleration so brisk and effortless (even with a light foot), that you could easily be cruising at 120km/h on the highway without even realising it. It calms down in a manner that is pleasantly surprising. Unlike the C63, you could easily drive this car every single day.
So this is the most super of the super saloons, eh?
It boggles the mind that a big executive saloon with such a high level of sophistication and cabin comfort is capable of driving the way the E63 S does, with its manic acceleration, precise handling and immense traction through corners.
Yet, despite the outrageous power and dynamic excellence, the E63 S offers enjoyment and excitement across a variety of driving situations. This isn't just a tool for the race track. It's a car that can be enjoyed even on our Singapore roads. It's pliant, comfortable, and offers up so much effortless power and acceleration. Yes, it still has bonkers speed and power, but unlike the C63, this car is so usable, comfortable, and supremely well-rounded. It's not a one trick pony. In fact, you could make the case that it is an every trick pony (if such a thing even exists).  
So yes, this is the most super of the super saloons right now. The E63 S exudes intensity and maturity in equal measure. Angry yet friendly, vicious yet forgiving, it is a gentleman capable of starting a riot. As far as super saloons go, the E63 S is the best of the lot (though the upcoming BMW M5 might have a thing or two to say about that). This is an AMG you can live with. No, this is the best AMG you want to live with. I love this car, but more crucially, I want this car with every fibre of my heart. 

Horsepower
:
450kW (603 bhp) / 6500 rpm
Torque
:
850 Nm / 4500 rpm
Transmission
:
9-speed (A) AMG SPEEDSHIFT MCT
Acceleration (0-100 km/h)
:
3.4sec
Fuel consumption
:
10.2 km/L