The BMW 330e iPerformance displays all the characteristics of a 3 Series, augmented by the power of electricity.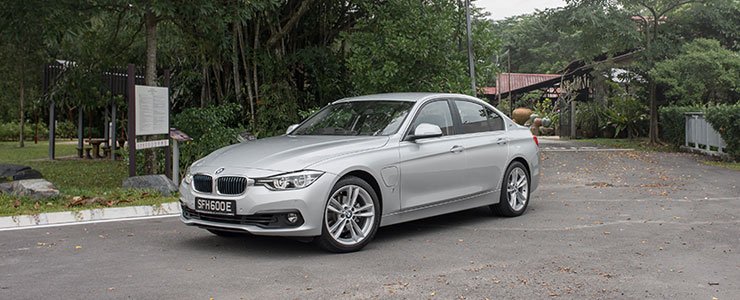 As part of BMW's rollout of its iPerformance range comes this particular offering - the BMW 330e iPerformance. We take it for a spin to see if it retains all the lovable goodness that the
3 Series
has always been known for.
Just as you'd expect
This car is essentially a 3 Series with an additional electric motor tucked into it, so it's exactly as you'd expect it to be - it looks, feels and behaves just like a typical 3 Series.
It's a good-looking car, with a comfortable and well-put together interior. The interior, with its largely analogue operation, feels somewhat dated, but this shouldn't be any surprise as this F30 generation 3 Series is now already five years old.
That aside, it excels in the characteristics that have made this compact executive sedan wildly popular - it's handsome to look at, the interior will comfortably sit five, and it wears a badge that boasts desirability and status.
A little unexpected
The drivetrain, however, is where this 330e deviates slightly from your traditional 3 Series formula. The 2.0-litre turbocharged petrol engine (the same one in the
320i
) is augmented by an electric motor, and the powertrain has a combined output of 249bhp and 420Nm of torque.
Thus, the 330e is actually quite quick. Thanks to the additional instant torque you get from the electric engine, 0-100km/h takes just 6.1 seconds. The powertrain, with its combination of electric and petrol power, feels flexible, refined and quietly discreet.
Beyond that, it feels and drives like a 3 Series should - light, agile, well-balanced and fun-to-drive. The steering is sharp and allows you to place the nimble car very neatly around corners, and the entire driving experience is highly engaging.
The main drawback compared to the
530e
we also drove is that the 330e uses an older hybrid system, and doesn't have the same fast charge battery.
This means that charging the battery using just the petrol engine and regenerative braking isn't as fast. Also, it doesn't have the same 'Battery Control' mode that holds the battery charge at a set level.
Where do we go now?
Has the 330e a place on our roads? We certainly think (and hope) so. Yes, as we've already pointed out in our 530e review, the local charging infrastructure is still being developed, and will need to reach an increased level of accessibility to make plug-in hybrids logically practical for the daily driver.
Right now, the 330e works just as a 3 Series does, and that's certainly a good thing.
However, for people looking to get a 3 Series, the 330e should really be held in good consideration, not just because it's a car that will fulfil all your needs now, but also because this is a car that will become more valuable in the future once our charging infrastructure improves.
This model is no longer being sold by local distributors
Engine Type
:
4-cylinder in-line 16-valve TwinPower Turbocharged
Horsepower
:
135kW (181 bhp) / 6500 rpm
Torque
:
290 Nm / 4250 rpm
Transmission
:
8-Speed (A) Steptronic
Acceleration (0-100 km/h)
:
6.1sec
Fuel consumption
:
19.2 km/L