The new 1.8-litre Audi TT Coupe proves to be an unbeatably fun-to-drive, bang-for-buck proposition.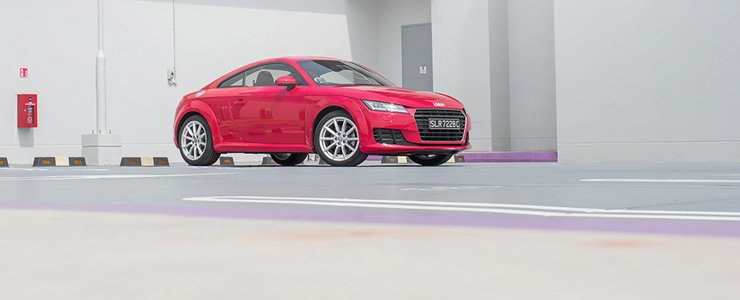 Having driven a fair number of cars over the years, I have come to the conclusion that, as a general rule, slower sports cars tend to be more fun. Think
Mazda MX-5
, for example.
And a crowning representation of this rule is the car you see here, the entry-level third generation Audi TT Coupe, powered by a turbocharged 1.8-litre engine.
Compared to its 2.0-litre sibling, which is also offered in both
Coupe
and
Roadster
forms, the Audi TT Coupe 1.8 TFSI S-tronic is $34,500 to $39,700 cheaper, depending on which bodystyle you go for (as of 28
th
December 2017).
But the appeal of this 1.8 goes way beyond its significant price difference. For starters, while it may only produce 180bhp and 250Nm of torque, 50bhp and 12Nm lesser than the 2.0, it's only 1.7 seconds slower from 0-100km/h.
That lack of outright pace is negligible on daily drives and is compensated by superior fuel economy of 12km/L and a more visceral experience from having to work the engine harder.
You won't mind doing so either, as the four-cylinder powerplant affords torque from as low as 1,250rpm. Power delivery is also smoother, and it's barely audible at a cruise.
Interestingly, the car's keen-edged steering, low mass and compact dimensions are more than enough for it to dart around traffic and dance along Rifle Range Road in a highly planted manner, even at childishly irresponsible speeds.
More importantly, because of its front-wheel drive layout, the 1.8 also feels lighter on its feet than its quattro-equipped 2.0 siblings. Unless you're planning on chasing lap times up North, quattro is hardly necessary in Singapore.
And despite being the entry variant, Audi hasn't cut back on the inside of the car.
It's identical to that in the 2.0 we drove - driver-focused, neat as a button and finished in high quality materials typical of the Ingolstadt brand. In terms of design and construction from the driver's seat, there are practically zero faults.
For a compact coupe, it's also got a surprisingly spacious 312-litre boot, which expands to a very practical 712 litres with the rear seats folded. The only quibble is how tiny those rear seats are, which can accommodate your hand carry bags and overweight lap dogs at best.
That said, it's a flaw that does very little to damage the appeal of the car, which is its impeccable good looks enriched by the fact that an Audi TT can now be had for much lesser money, with better efficiency and just as much fun, if not more.
This model is no longer being sold by local distributors
Engine Type
:
4-cylinder in-line 16-valve Turbocharged
Horsepower
:
134kW (180 bhp) / 6200 rpm
Torque
:
250 Nm / 5000 rpm
Transmission
:
7-speed (A) S tronic
Acceleration (0-100 km/h)
:
7sec
Fuel consumption
:
16.9 km/L