---
The Maserati Quattroporte GranLusso's stylish sheet metal, exquisite cabin materials and soulful powertrain make it a luxobarge that's extra special.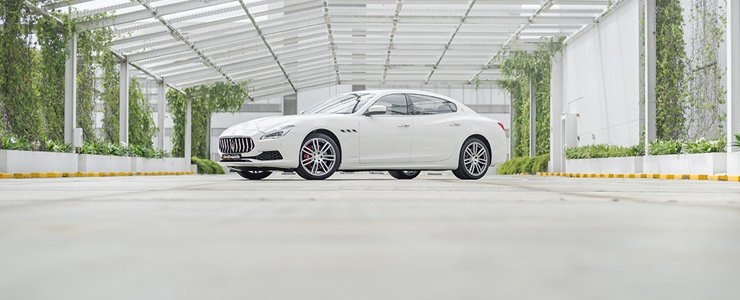 There are a million things that make people feel special; this is one of them.
It may not be as advanced as an
Audi A8
, as comfortable as a
Mercedes-Benz S-Class
or as capable as a
Porsche Panamera
but the Maserati Quattroporte is a car that's impossible not to love.
For one, it has a presence even greater than the Norman Messina Cathedral in Sicily. Clearly, the Italians know how to make a car sound good but look better.
Beauty in the details
It has a face that says 'bugger off' every time it appears in your rear view mirror and in the more luxury-oriented GrandLusso guise, as our test car was, the Quattroporte looks every bit as expensive as it does aggressive.
After all, the Quattroporte is a model that's been breathed on by some of Italy's best and most famous designers throughout its 55-year history, such as Bertone, Giorgetto Giugiaro and the Pininfarina firm.
Never mind that it's not as lithe or that it doesn't feel as hurried as the Panamera despite both of them being 5.5-second cars because the Quattroporte isn't the sort of car you'd really want to drive like it's stolen, despite its
Mafioso
aura.
There's lots of aluminium in the car's structure and a pretty impressive Skyhook adjustable suspension system so its still more responsive than you'd expect for something its size. And it'll handle itself quite beautifully when you need to outrun the
Polizia
, thanks in part to its new Electric Power Steering system.
A soulful singer
When you do, its creamy Ferrari-built 3.0-litre twin-turbocharged V6 offers a strong 345bhp and 500Nm of torque at full bore. But more importantly, it delivers heart and soul, which some of its German competitors lack.
Admittedly, it's not as symphonic as the naturally aspirated V8 of the older models but it still howls under rising revs, accompanied by upshift blarts and the occasional crackling of its sublime eight-speed ZF-supplied automatic transmission.
Simple yet excessive
The Quattroporte doesn't just provide visual and aural delights for whomever it passes by either. With the GranLusso trim, all on board are treated to lavish Ermenegildo Zegna mulberry silk inserts on the seats, door panels and roof lining, as well as open-pore Radica wood trims.
At the back, there are no front headrest-mounted infotainment screens to steal the attention away from well-defined lounge experience; you simply relax and fully soak up the first-class limo affair the Quattroporte offers.
But there's still some modern tech to go along with the pampering, too, such as a high-resolution 8.4-inch touchscreen display that supports Apple CarPlay and Android Auto, and the usual range of electric seat adjustment nannies.
For this latest model of the Quattroporte, Maserati has also introduced a suite of driving assistance systems, which include Highway Assist, Lane Keeping Assist and Active Blind Spot Assist.
However, the Quattroporte is best had with them turned off because that's not what it's about. You don't need to be told how to drive or how quickly you're able to go around the Nurburgring when in a Maserati.
Rather, the appeal of the car is its unbeatable charisma and genuine Italian flair. With this latest iteration of the Quattroporte, the Modena-based company has once again proven its unique ability of turning prosaic luxury commuting into something very special.

Horsepower
:
257kW (345 bhp) / 5500 rpm
Torque
:
500 Nm / 4500 rpm
Transmission
:
8-speed (A) ZF
Acceleration (0-100 km/h)
:
5.5sec
Fuel consumption
:
10.9 km/L