---
The Skoda Superb offers a reasonably affordable way to access the next level of luxury.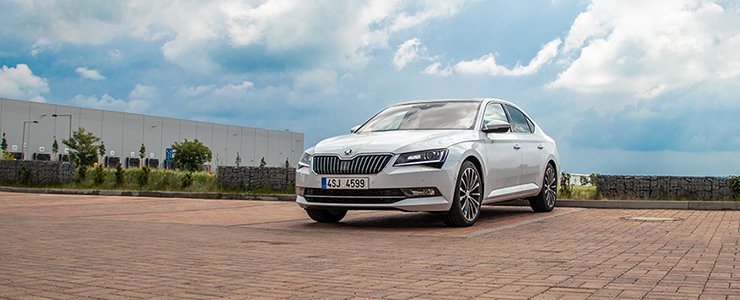 The Skoda Superb is the Czech brand's idea of luxury. In fact, the 'Superb' name was first used on a Skoda car back in 1934, a full-size luxury car with a V8 engine and all-wheel drive. That Superb was particularly expensive - the most expensive Superb 4000 model cost just slightly less than a grand country house.
The Skoda Superb name was revived in 2001 and this car you see here is the third generation model. We can promise you one thing though - it won't cost as much as a grand country house.
So it's still a full-size luxury car?


Well, the
Skoda brand
has changed a lot since the 1930s - specifically, its focus now is on producing affordable and practical family cars. The Skoda Superb is the brand's flagship model - the grandest, most luxurious offering from the company.
First things things, this is a good-looking car. The styling is sharp and crisp, especially at the front with its angular and pointy nose. The rear also looks much less dull than before, with much credit having to go to the angular tail lamps.
The interior definitely feels a notch up from the rest of the Skoda lineup, particularly in this Laurin & Klement edition. Yes, this top-of-the-range variant bears the names of the company's founding fathers, and you can tell that the company has fitted this with every bell and whistle possible.
You've got Dynamic Chassis Control, a panoramic sunroof, Park Assist, Cruise Control, front ventilated seats, and a Columbus 3D navigation system with a 9.2-inch display, which also has gesture control.
All these combine to make the cabin feel premium and luxurious. Additionally, it's really comfortable as well. There's lots of space, and sound insulation is top-notch. On the go, the cabin is quiet and serene.
You've also got nifty storage features, such as the Rolls-Royce-esque umbrella compartments in the doors, and the hidden storage spaces under the passenger seat. The Superb also delivers 625 litres of boot space, expandable to a massive 1,760 litres after folding down the rear seats.
Nice to drive, then?


Driven sensibly, definitely. The car we drove was powered by a 1.8-litre TSI engine developing 177bhp and 320Nm of torque, which felt a tad underpowered. Thankfully, Singapore gets the 2.0-litre TSI engine with 217bhp and 350bhp, which should make for a much more energetic drive.
On highways, the car is pliant and very comfortable. The steering is also light, making the car effortless to pilot. However, the soft suspension does make for a rather bouncy ride when driving on poorly-paved roads - the car does lack composure over some of the uneven countryside roads that we were driving on.
So how superb is it really?


This isn't a car for keen driving. No, this is a car that's all about travelling in comfort and luxury, and it certainly does that well. Yes, it may seem a stretch to call a Czech car 'luxurious', but at its price point, you are really getting a lot of car for your money.
The honest truth is that we didn't have that much time to drive the car the way it ought to - instead of long cruises on the highway, we were doing short bursts on bumpy country roads, all while travelling slightly faster than we should have been doing.
But even with our brief time in the car, we can tell that the Superb has the makings of a luxurious yet sensible family sedan. It's quiet, comfortable, and very well equipped. And most of all, it genuinely feels high-quality.
In Singapore, this car (with a 2.0-litre engine, no less) costs $158,900. And that's incredibly good value for money, no matter how you cut it.