---
The Toyota Prius+ Hybrid is a seven-seater MPV that provides more load capacity and a better powertrain than the already impressive Toyota Wish.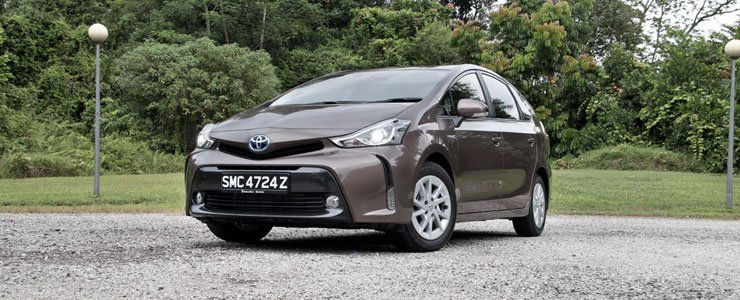 The
Toyota Wish
is now a thing of the past. Replaced with the petrol-electric hybrid Prius+ that you see here, the Wish was one of the most impressive MPVs in its segment, with its generous space and a composed powertrain.
With big shoes to fill, can the Prius+ stand up to its peers like how the Wish did?
More of everything
There seems to be more of everything in the car, especially space. Having a longer and wider body as well as a longer wheelbase over the Wish translate to a relatively roomy cabin. Boot space has also increased from 186 litres to 200 litres.
Perhaps this has got to do with the placement of the 56-cell lithium-ion battery pack. Located within the centre console between the front seats makes up more room for third row passengers.
As a result, you get an MPV that can properly fit seven occupants, even if seats six and seven gives you lesser legroom.
More relevantly, getting in and out from the third row is also a fuss-free affair, thanks to easy-to-use folding functions and a wide door opening.
Familiarity and hardiness
Elsewhere, the Prius+ carries over its design and layout from the third generation
Prius hatchback
, which isn't a bad thing at all. This means straightforward controls and buttons that do not require you to have a Master's degree to operate.
Everything here falls into place as it should be and then some. Up front, you get a large glovebox that splits up into two compartments and ample storage trays and cubby holes for your convenience.
Hard plastics fill the cabin but that's a really small quibble considering its attractive $115,988 (as of 10 August 2018) price tag and its impeccable fit and finish.
In fact, with the Prius+, there is a strong sense of security with its vault-like cabin. You get the feeling that this is one car that will serve you and your family for at least two full COE lifespans.

Out and about ever so efficiently
On the go you are also served with a choice of driving modes - Electric, Eco, Normal and Power. Regardless of which mode you choose, the Prius+ makes driving around town a breeze, even with its larger dimensions.
Even on highways, the economical MPV makes things easy for the driver. Thanks to 142Nm of torque that is instantly available from lower revs, executing an overtaking manoeuvre is as easy as breathing and it does so without exhibiting the car's heft.
Weighing 200kg more than the Wish, the Prius+ naturally doesn't feel as quick, even if both cars share the same century sprint timing of 11.3 seconds. But where the Prius+ does better is the way it delivers power ever so efficiently and linearly. As such, that the car has lesser horses than the Wish doesn't matter one bit.
It also has handling traits that are not commonly associated with MPVs. Around bends, the Prius+ feels neutral and reasonably precise, with body roll kept to a minimum.
But buyers wouldn't get the Prius+ for all its road bravado. Instead, its fuel consumption as a hybrid will be a priority for most. Over a three-day test drive, we managed to attain 17.5km/L, which isn't too shabby for a car that weighs close to 1.6 tonnes.
Plus is more
In more ways than one, the Prius+ offers a fair bit more than the Wish. Better storage space, better fuel economy and more space for occupants, it's certainly a good way of transporting the whole family.
Yes, the Prius+ may not have a sporty drive or dashing good looks to boast, but all these do not come to mind when you're behind a wheel of a car that can provide this much comfort for everyone on board for this little fuel.
So can the Prius+ stand up to its peers like how the Wish did? You bet...


Engine Type
:
4-cylinder in-line 16-valve DOHC with VVT-i
Horsepower
:
73kW (98 bhp) / 5200 rpm
Torque
:
142 Nm / 2800 rpm
Acceleration (0-100 km/h)
:
11.3sec
Fuel consumption
:
22.2 km/L