---
The Volvo XC40 is one of the funkiest and cooler-looking compact SUVs in the business and it now comes with a more affordable pricetag.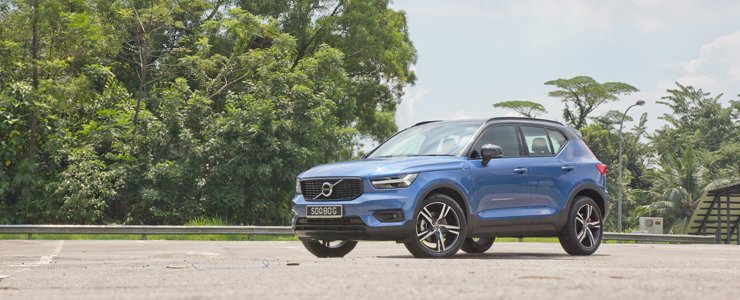 Once known for its boxy, squared off looks, Volvo made very safe cars that you wouldn't associate as good-looking.
But the XC40 is unlike what we would associate Volvos of old. With its chic looks, it now comes with a more affordable trim, the T4 R-Design.
So, what's different?
For starters, it still comes with a 2.0-litre turbocharged lump up front, albeit with less horses at 187bhp. Wheels are slightly smaller too, at 19-inches. And unlike the all-wheel driven
T5 variant
, the XC40 T4 is front-wheel driven.
But aside from the skin-deep differences, there really isn't anything that separates between the two.
Okay, tell me more about the XC40 then
In the looks department, Volvo certainly did it right with the XC40. It looks very serious, and gives off a funky, hipster sort of vibe. It almost seems like Volvo had a little bit of fun with the compact SUV, making it stand out from the excess of crossovers running on our roads today.
From the front, the XC40 has a nice yet angry-looking snout of a grille - heightened by the black trim that comes with the R-Design package.
The car is rather petite, but hides its small size very well. Many we met with the car even assumed it to be its bigger sibling, the
XC60
.
Somehow, the XC40 is as funky as something you'd expect from perhaps the French, but remains to be unmistakeably Volvo.
Step inside, and you'll be greeted with the cool-looking, vertically-oriented infotainment system. The fluidity of the user interface can rival even tablets and mobile phones, and Volvo managed to get it absolutely right.
Due to this good setup, it means even though Volvo moved the air-con controls up to the touchscreen, it is as easy to use as actual buttons. There is a lot of driving information that can be displayed and customised on the instrument cluster, too.
There is also a lot of practicality on the inside. Aside from the big side door pockets and removable stowage areas, there's a compartment hidden away under the seat where you can store your loose items, and lots of items like a hook that comes out the glove box, for your handbag or
kopi
.
How's the drive?
While these features may not seem like much, they do come in handy, especially when the XC40 is capable of sending 300Nm of torque from just 1,400rpm - quick enough to cause bags and loose items rolling all around the car.
But it isn't just about how quick this compact SUV is. The XC40 manages to drive with the sort of precision and joy you would never experience from a crossover.
The spirited driving experience is aided with the fact that the grippy Pirelli tyres are fitted as standard on the R-Design trim.
Sometimes, the gearbox will sit in the highest gear and not respond immediately to throttle inputs, but when it does, there is no doubting that this Swede is more than capable of keeping up with the pack.
Come to a stop, though, and you might find that the powertrain is slightly unrefined. Start-stop can get a tad rough, and auto-hold still lets the car nudge forward ever so slightly when you let off the brake pedal. But really, this is nit-picking.
A lot of attention to detail has been put toward the XC40's driving and safety assistance systems to be as unobtrusive as possible. For example, lane keeping assist doesn't shout at you or violently vibrate the steering wheel like others. All it does is pull you back into the lane, gently.
There really is a lot to like, then?
There certainly is. The XC40 T4 R-Design is still priced rather high, though, at $185,000 (as of 29 November 2018).
But amongst its premium crossover peers, the XC40 comes out on top with its combination of cool looks, comfortable cabin and a decent ride.
Plus, you'll never look out of place parked up front that local hipster trendy café.

Engine Type
:
4-cylinder in-line 16-valve Turbocharged
Horsepower
:
139kW (187 bhp) / 4700 rpm
Torque
:
300 Nm / 4000 rpm
Transmission
:
8-speed (A) Geartronic
Acceleration (0-100 km/h)
:
8.4sec
Fuel consumption
:
13.9 km/L