---
The Toyota RAV4 is bigger, more comfortable and more crazily styled but the Seat Ateca has better cabin materials, a more modern infotainment system and a torquier powertrain.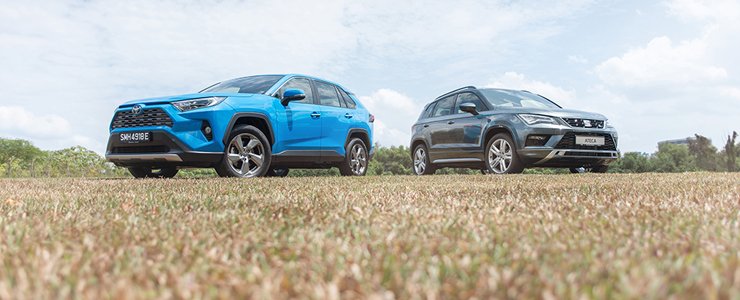 The early success of the original Toyota RAV4 in the 1990s popularised the breed of SUVs that would ply our roads for years to come, and paved the way for competitors like the
Honda CR-V
, the
Subaru Forester
and even the
BMW X3
.
To put things into perspective, it was the Seiko 6105 of the automotive industry. And today, with the ever-intensifying SUV obsession, we see the RAV4 facing even more competition, such as the
Seat Ateca
, of which it shares a price bracket with.
Now in its fifth generation, can this returning Godfather continue to hold its own against a new kid on the block? We find out.
First impressions
On first glance, it's easy to mistake the RAV4 for a completely different model given its radically redesigned sheet metal and its increased dimensions and wheelbase over the previous generation.
Next to the Ateca, it not only looks massive but also more futuristic with its plethora of wild creases and lines.
But one man's meat is another man's poison and some, like myself, may prefer the simpler and more maturely styled Ateca. In my opinion, it was the second generation RAV4 that looked the best.
Space race
Still, there's no denying that the RAV4's upsized proportions are a major advantage against the Ateca, being bigger all around and having a 60mm longer wheelbase.
For almost the same amount of money, the amount of passenger room in the RAV4 feels a size above the Ateca, on top of a 547-litre boot that's 62 litres more than its Spanish rival's.
In the race for space, it's clear that the RAV4 has the upper hand. But that said, unless you're constantly ferrying Shrek and Fiona or taking long drives up North, there is little to complain about the roominess of the Ateca, which is sufficient for a Singaporean family of five.
Quality over quantity
But where the Ateca loses points for size, it makes up for with an interior that's better appointed and better represented. This, however, comes as no surprise here as cars from this end of the Volkswagen group have a reputation for combining cabin form and function in way that many manufacturers fail to, without the premium price tag.
The materials used inside the Ateca feel slightly richer and sturdier, and offer an experience that feels a bit more expensive. In FR trim, the red-on-black stitching, too, offers a more youthful, sportier ambiance.
On top of that, while credit has to be given to Toyota for the modernness of the RAV4's cabin, there is one glaring omission - a modern infotainment system.
Similar to the base-spec
Mazda3
used for private-hire purposes, the RAV4 we tested was fitted with a single-din display, which is sad for a car that's made for 2019. Borneo Motors has confirmed that the proper 9.0-inch version seen at launch is on its way in, but will cost buyers an additional $3,000.
The Ateca's 8.0-inch Full Link infotainment display, equipped with Apple CarPlay and Android Auto connectivity, beats the RAV4 hands down in this aspect. Seat's wireless changing pad, too, offers a more consistent, more stable charge when tested with my iPhone XR.

Ride delight
Thankfully, the RAV4 manages to recoup lost points where ride quality is concerned, with a suppleness and refinement that few would associate with the Toyota badge thanks to the new TNGA architecture it sits on.
Under light throttle applications, it also offers a highly muted experience, with only a wee bit of wind noise from the biggish wing mirrors, which is what you'd expect from more expensive European models.
Where ride and refinement is concerned, the win goes to the RAV4, especially if you're someone with slightly older tastes.
But younger buyers will appreciate the sportier suspension setup of the Ateca, which aids with flatter cornering performance, as well as the added grip from its all-wheel drive system that gives you the confidence, to drive it harder.
And it's the Ateca that'd you'd be more willing to drive harder, too, given the nature of its turbocharged engine, mated to a dual-clutch transmission (with paddle shifters).
While there are benefits to Toyota's choice of a naturally aspirated-CVT pairing, there's no denying that more torque, and the chipper nature of dual-clutches is what makes for a more spirited drive.
On the same road, the aforementioned benefits of the RAV4's power and drivetrain come to shine, with a clocked fuel economy figure of 12km/L from a 2.0-litre, which is surprisingly similar to the lighter Ateca's 1.4-litre with active cylinder deactivation technology.
Safe buy
In terms of safety, both cars on quite on par, offering active nannies such as pre-collision systems, pedestrian protection systems and seven airbags. The RAV4, however, comes with an added lane departure alert function.
So at the end of the day, would you pick a more spacious, more comfortable and slightly more affordable Toyota, or a more modern, plusher and more fun-to-drive Seat?
Well, I think that highly comes down to personal tastes. The family-oriented that prioritise the practicality, dependability and reliability associated with the Toyota brand will steer towards the RAV4.
But for younger buyers like myself that prefer a tighter, more enthusiastic driving experience and better connectivity to go along, the Ateca is the more appealing one.
Prices for the RAV4, which is currently only offered in one trim, begin at $125,988, while prices of the Ateca begin at $111,400 and go up to $127,400 for the highest-spec 1.4 AWD TSI DSG FR variant we tested (as of 12 February 2019).