---
The new Audi Q8's sleek looks and surprisingly uncompromised practicality makes it a stylish SUV worthy of its elevated status.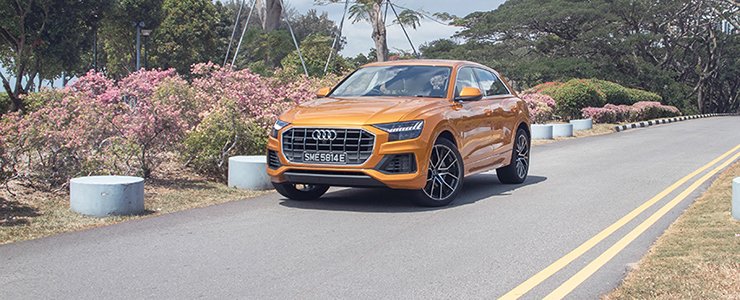 In the world of car niches, there's perhaps none more perplexing than the 'coupe sport utility vehicle' - trying to meld the sleek looks of a coupe and the inevitable boxiness of a family SUV just seems inherently contradictory.
However, that hasn't stopped manufacturers from trying. With cars like the
BMW X6
, the
Mercedes-Benz GLE Coupe
and the 
Range Rover Velar
 in the market, it's clear that people are lapping these cars up anyway.
Well, another car has joined the fray - the brand new Audi Q8. 
Orange isn't the new black
"Whoa!" That was our first reaction on seeing the Q8. It's certainly an in-your-face design, from the big, angular grille, to the massive 22-inch wheels (the largest fitted on any Audi), to the, yes, intensely exuberant orange. It's called Dragon Orange Metallic, for god's sake. 
We reckon the overall design of the car is quite handsome and coherent, with clean muscular lines and a sporty-ish silhouette. It's not the most raked roof, but the flip side is that the interior cabin space is less compromised. We also like that the car's design is quite understated, and not trying too hard to be something it isn't (a coupe this car certainly is not). 
However, it's quite hard to get over that orange colour. The car looks pretty nice in white, black, even galaxy blue. But man, Dragon Orange Metallic is just a little too much for our tastes.  
Certainly the good place
Move inside the car and the boldness of the exterior transitions into a space that is much more familiar, as the cabin shares many of the same elements as the new
A7
and the
A8
. You get the two screen setup, digital cockpit, a new centre console, all packaged together in an expectedly sleek manner. All in all, the cabin boasts a clean and cohesive design. The frameless doors are a nice, exquisite touch as well. 
However, the two touchscreens take some getting used to. With the haptic feedback function on, you have to physically push down on the screen to actuate the 'buttons', rather than the light tapping you'd do on most other touchscreens. Do so, and your finger will be met with a mechanical pulse that feels remarkably similar to pushing a physical button. So, don't be alarmed if your first few taps on the screen goes undetected. Alternatively, you can turn this function off and have the screens operate like traditional touchscreens.
Sitting in the rear seats, it feels pretty much like a standard SUV, which is a good thing. The car feels surprisingly spacious and roomy. There's tons of practical boot space, too. The 605-litre boot can be expanded to a maximum of 1,755 litres, more space than most people in Singapore will ever reasonably use.
Unbreakable
With 335bhp and 500Nm of torque on tap from the turbocharged 3.0-litre V6 engine, you'll never be short on power. In fact, put your foot straight down and you'll quickly realise that the Q8 is a lot faster than anyone really needs a two tonne SUV to be - 0-100km/h takes just 5.9 seconds. Drive it more sensibly, though, and it's a smooth and gutsy engine that delivers plenty of torque once you overcome the initial turbo lag. 
In the Q8, you have quite a number of drive modes that alter the ride height, steering, throttle response and transmission. In 'Comfort', the ride is soft and cushy, with the air suspension soaking up bumps very nicely. 'Dynamic' drops the ride height by 40mm and firms up the suspension, helping to negate some body roll.
As far as handling goes, this car doesn't manage to defy the laws of physics. It's a big, long and heavy car, so there's inevitably going to be some body roll (especially in the softer suspension settings). There's also some understeer when cornering aggressively, though we suspect buyers of this car won't undertake in such foolish driving.
However, we were quite surprised by the Q8's relative light-footedness, and the way it manages to disguise its significant size (it is more than two metres wide). This is thanks to the car's four-wheel steering - negotiating up and down ramps in an HDB multi-story carpark was less stressful than we expected.
Also, the driving position, even in its lowest setting, is quite high. When you look out of your window, you'll likely be looking at the roof of most other cars. Worried about blind spots? No problems there because the Q8 is fitted with a wealth of safety and driver assistance systems - the 3D surround view camera is definitely useful in tight spaces.
Taking the throne
The Q8 is an extremely capable SUV, doing all the things you expect from an all-purpose, large bodied and high riding car. While it's undoubtedly a model developed to fill a specific niche, it feels thoroughly well executed, and not some hatch job just to duke it out against existing competitors. 
This begs the question - why buy this car over a
Q7
? Well, it comes back to the notion of status. Yes, we can parse each car's mechanical qualities down to its individual parts, but there's still inherent value placed in a car's perceived 'quality'.
And it's in this regard that the Q8 certainly elevates itself as an SUV, offering you a premium and rather exquisite experience without compromising its purpose-driven abilities. Compared to the Q7, it definitely feels much more special. 
Yes, the Q8's looks aren't subtle and they don't exactly scream practicality, but what's surprising is that the car is actually very well rounded, and useable across all situations. And if you're looking to break out of the perceived 'dullness' of big, family SUVs, then the Q8 might just be what you're looking for. 
But for the love of god, please pick a colour other than orange.

Engine Type
:
V6 Turbocharged
Horsepower
:
250kW (335 bhp)
Torque
:
500 Nm / 4500 rpm
Transmission
:
8-speed (A) Tiptronic
Acceleration (0-100 km/h)
:
5.9sec
Fuel consumption
:
11.2 km/L