---
With EQ Boost technology, Mercedes-Benz is able to downsize the C200's engine without sacrificing performance, all while offering improved fuel economy.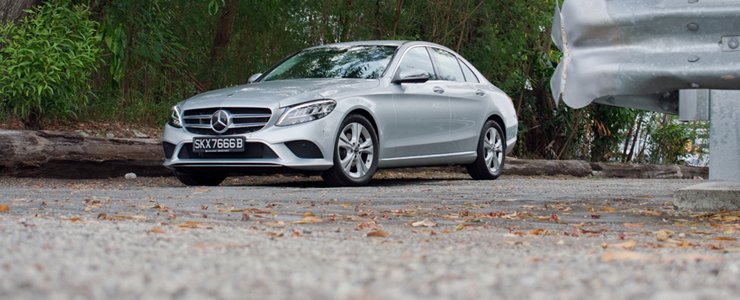 The fourth generation
C-Class
may have been the best-selling Benz in the last four years (yes, it outsold even its stilted stablemates) but the German manufacturer isn't resting on its laurels and has given the model a
mid-life update
to remain relevant, especially with the incoming threat of an all new
BMW 3 Series
.
And while the cabin offers the biggest visual changes, the most notable improvement to the C-Class lies under the hood of the variant you see here, the C200, which is now powered by a 1.5-litre engine.
What! It's gone from 2.0 to 1.5?
Yes, but don't panic just yet. Aided by a cutting-edge EQ Boost mild hybrid system that uses a 48V system with a belt-driven starter-generator, performance isn't much affected.
Admittedly, the
outgoing C200's
2.0-litre has more torque, rated at 300Nm (now -20Nm) and a quicker 0-100km/h timing of 7.3 seconds (now +0.4 seconds) but the new, hybridised 1.5-litre makes the same amount of power as before, rated at 181bhp, and has a higher top speed of 239km/h (now +4km/h).
For day-to-day driving, you won't really notice the reduction in engine capacity. 
In fact, it doesn't feel like it's powered by a little 1.5-litre at all because the aforementioned EQ Boost system, which contributes 14bhp of the total output, supports the bottom-end of the rev range before the turbocharger does its magic. This means that the C200 is still considerably spritely off the line.
More importantly, EQ Boost works so seamlessly you won't even remember it's there, all while enjoying 12km/L of fuel efficiency, which is impressively close to the stated 16km/L.
The only niggles we have with the car are the slight sluggishness of the nine-speed transmission when left to its devices (it's fine when driven manually using the paddle shifters) and that its small-capacity engine can get a little vocal when driven hard, accompanied by a slight whirring noise when deccelerating.

Should it be driven hard, though?
Thankfully, those aren't things that will bother most C-Class buyers who will typically be more concerned about comfort and easy driving, which is what the C-Class does superbly.
It rides well over pockmarked tarmac, in a fashion that's entirely befitting of the Benz badge, yet doesn't waft around like a seasick walrus when you're in the mood for some backroad twisties.
The car feels tightly put-together, and coupled with a well-weighted steering that's positive across the ratio, affords a level of dynamism that should give its BMW rival a run for its money.
As for the rest of the car, there really isn't anything to nit-pick at, even if the infotainment system a little slow to respond at times. With its carefully selected materials and top notch fit and finish, the cabin is certainly modernised (customers get dual digital screens; our test car's cluster was only semi-digital).
Alas, the car comes at a cost. At $201,888 (as of 4 March 2019), the C-Class is a tad high compared to, say, a 2.0-litre A4, which costs nearly $30,000 less.
Then again, given Merc's track (read: sales) record, we don't reckon this will dampen the appeal of the C-Class.
This model is no longer being sold by local distributors
Engine Type
:
4-cylinder in-line 16-valve Twin-scroll Turbocharged
Horsepower
:
135kW (181 bhp)
Transmission
:
9G-Tronic (A)
Acceleration (0-100 km/h)
:
7.7sec
Fuel consumption
:
15.8 km/L