The BMW 7 Series Plug-in Hybrid gets a more refined powertrain with a six-cylinder powerplant.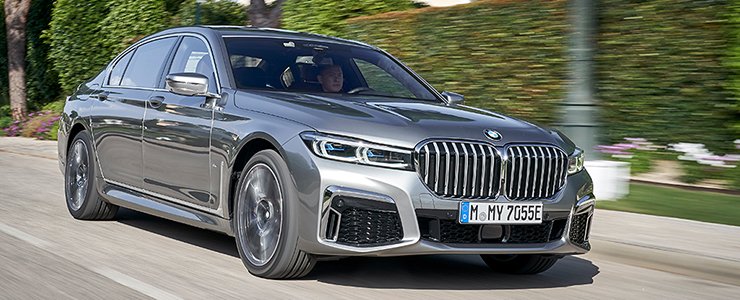 In line with the facelift for the entire 7 Series model range, the 745Le Plug-in Hybrid (PHEV) gets its fair share of upgrades - not just on its sheet metal and cabin - but also on its powertrain.
Is it just as luxurious?
Like the
regular facelifted 7 Series
that we tested here in Faro, Portugal, the PHEV variant that you see on this very page gets its fair share of enhancements.
The carmaker's latest take on its kidney grille has proved to be more prominent for the sake of differentiating itself from the rest of the models in its lineup.
But more importantly for drivers and owners alike (some may prefer to be chauffeured), it's more harmonious on the inside now. Not only do you enjoy new high-quality trimmings and a leather-swathed cabin, thicker glass windows have been engineered for enhanced comfort and sound insulation benefits.
Incidentally, luxury is also behind the enlarged kidney grille. It has grown by 40%, which is significant, but with slimmer headlamps and newly designed bumpers that look more sophisticated than sloppy, the 7 Series does appear to have a more authoritative disposition that's worthy of a flagship sedan status.
But why the grille?
According to a BMW spokesperson, the two main reasons for the increase in size of the grille is to ensure a clear differentiation between the 7er and the rest of the models in BMW's range. This way, a casual observer will never mistake a
5 Series
for the 7 Series, or have someone passing an unruly remark about how the car you see here is just an enlarged version of a
3 Series
.
The other reason is due to the feedback the brand has received from owners in China - 7er's biggest market. It seems Chinese owners have pointed out that the car needed more presence on the road and BMW has taken note of that, since they actually account for a whopping 41% of the total sales of the car.
Look good, drives better
Speaking of presence on the road, the 745Le is a polished product indeed. Where the 740e predecessor got a 2.0-litre four-cylinder engine, the facelifted car gets a bigger and juicier 3.0-litre six. This translates to a drive that's smoother and more powerful.
While we only had the car for a brief period of time and didn't have a chance to travel out to the highway, it's clear that the 745Le is quiet and calm around town. We boosted the car hard enough to experience the transition from electric to petrol and we're happy to report it's seamless and unobtrusive, even if it's noticeable.
Three driving modes are available - Electric, Hybrid and Sports - bookended by a function dubbed Battery Control that controls the battery state of charge.
As the word suggests, Electric mode doesn't touch the combustion engine at all, unless you pedal to the metal. In this mode, you could drive for a good 45km and at up to 145km/h without even sipping on a drop of fuel.
It's not so different in Hybrid mode. You could drive in pure electric mode up to speeds of 110km/h, but you do require a lighter right foot if you want to keep it that way.
As you'd expect, full-on driving with a combined output of 394bhp and 600Nm of torque as all as 5.1-second century sprint can be experienced in Sport mode. Here, the electric motor supports the combustion engine, which could also be an ideal time to control the state of charge via the Battery Control.
Regardless of whatever driving mode you decide to select, the 745Le rides like a magic carpet. And although we didn't push the car as hard as we did the regular petrol-driven brethren, we're pretty certain of its dynamic capabilities and razor sharp handling.
Let's go green
Would I choose this over a regular variant? Yes, I would. By upgrading its engine from a four-pot to a smooth six, the Plug-in Hybrid 7 Series is seemingly suited to a segment where the best of the best sit.
Add a progressively smart electric system with multiple driving modes, and what you'll get is a car that's calm and quiet around town, and quite possibly refined and quick at higher speeds.
On this evidence alone, BMW could well have a good chance at conquering the segment leader, the Mercedes-Benz S-Class.