Combining green credentials with ample performance, luxury and practicality, the Porsche Panamera 4 E-Hybrid Sport Turismo is the pick of the lot.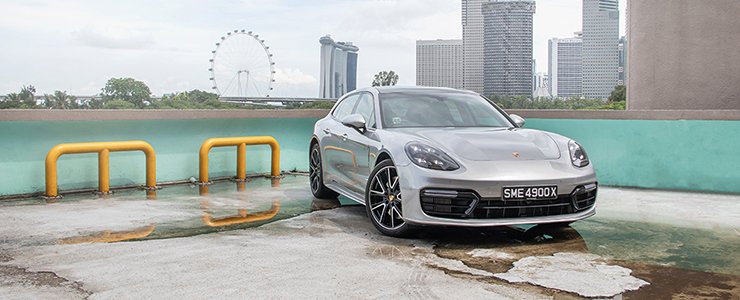 What comes to mind when you think of a stylish and luxurious family car that boasts ample practicality and green credentials, while still being amply powerful yet engaging and fun to drive? If you're scratching your head, we don't blame you. That's a wide-ranging list of qualities that rarely go together in a single package.
Well, we have an answer for you. Deep breath now - the Porsche Panamera 4 E-Hybrid Sport Turismo.
A car shouldn't have six words in its name...


Yes, that's really quite a mouthful, but let's break it down. This, here, is yet one more variant of Porsche's second generation
Panamera
. Specifically, this is the four-wheel drive (hence
4
) plug-in hybrid version (hence
E-Hybrid
) of the estate version (hence
Sport Turismo
) of the Panamera.
Now that that's cleared up, here's what you need to know about this car - it's brilliant.
As far as estates go, we reckon the Panamera Sport Turismo is the sexiest of the bunch, thanks to its sleek lines, low slung silhouette and wide stance. This E-Hybrid variant is distinguished by dashes of lime green detailing such as on the brake callipers and bordering the 'E-Hyrbid' and 'Panamera 4' badging on the car.
Inside, it's pretty much the same cabin you'd find across all the other Panamera variants (subject to options, of course), for better and worse. The good stuff first - luxurious materials everywhere, ample space for both front and rear passengers, and the cabin exudes luxury.
But, some frustrating elements remain. For example, the climate control also always seems to jump back to full blast every time you start the car, rather than remembering your last setting.
Thankfully, the car is highly practical. The 425-litre boot is less than what you'd get in a standard Sport Turismo, but there's still ample space to fit you golf bags and what not. 
So, what's an E-hybrid? 


Powering this Panamera is a plug-in hybrid powertrain combining a 326bhp 2.9-litre V6 engine with a 100kW electric motor to deliver a combined output of 456bhp and 700Nm of torque. 
Coupled to the all-wheel drive system and with added boost of instantaneous electric torque, this means the car accelerates from 0-100km/h in just 4.6 seconds, impressive considering it weighs 2,190kg. So, there's no doubting the performance capabilities of this car, especially when you put it in 'Sport' or 'Sport Plus' mode.
However, what makes this car particularly unique is that you can also drive it in full electric mode, with the 14.1kWh delivering around 39km of real world all-electric range. Leave it in 'Hybrid Auto' mode and the car will engage the petrol engine only when you prod the gas pedal hard, otherwise choosing to cruise along in silent, all-electric mode.
To fully exploit this car's green credentials, you would want to have access to a charging point. Even so, we spent a day with the car and managed to return a fuel economy figure of 11.2km/L, which isn't too shabby for a big, heavy car with a V6 engine.
And it costs how much??


Look, we understand that a Porsche Panamera is always going to be a bit of a niche choice for buyers in the market for a luxury executive sedan (or estate). It's undeniably pricey, especially once you get deep into the options list. Our test car came with $94,757 worth of options, and that's on top of the car's $437,388 price tag (as of 19 May 2019), not including COE.
However, as far as across the Panamera range, this is the model we'd have. It has all the qualities we've come to know and love about the Panamera range. Despite the additional weight, it still delivers ample performance and dynamic handling. The cabin is comfortable, premium and luxurious. And of course, the Sport Turismo is one hell of a good-looking car.
Tag on the additional green capabilities that come with the plug-in hybrid system, and you really have a fairly complete package. We'd have this car in a heartbeat.
Now, if only there were half a million buckaroos lying around somewhere...

Engine Type
:
V6 Turbocharged
Horsepower
:
345kW (462 bhp) / 5000 rpm
Torque
:
700 Nm / 6500 rpm
Transmission
:
8-speed (A) PDK
Acceleration (0-100 km/h)
:
4.6sec
Fuel consumption
:
40 km/L