The all new seventh generation Mazda3 sedan is high on driving comfort, cabin refinement and good looks.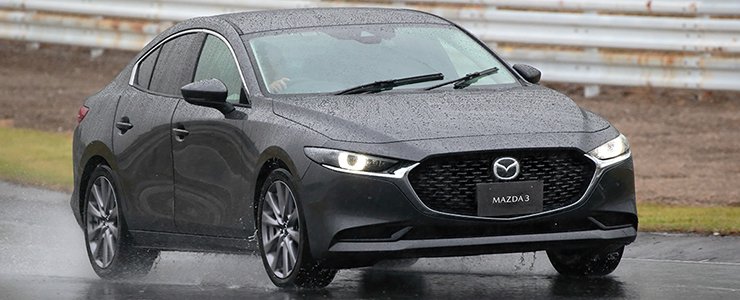 It isn't hard to see why the Mazda3 is an important model to the Japanese carmaker. Having sold over six million units since its 2003 debut, the all new
seventh generation Mazda3
that you see here was created to have a clear objective in mind: To have a completely new design approach to two of its different body types - a hatchback and a sedan - while ensuring that these two different cars embody strikingly different personalities.
After spending a full day at the Mine Proving Ground in Fukuoka, one of Mazda's testing facilities that includes a 3.3km circuit course, the carmaker could have well met its objective.
Looking good wherever you are
The sedan model that we tested, for instance, looks every bit as elegant and sophisticated as cars that are a class above it.
Its sheet metal is now admirably simple and executed perfectly, with no visual interruptions from unnecessary waistlines and wild creases. What you get, though, is a pair of slim headlamps that integrates seamlessly with a rather eye-catching massive grille.
Thus, the car looks bold without being overly aggressive, with persuasive proportions and smooth reflections that suggest pace and grace.
In terms of design, you could say that while the Mazda3 Sedan has always gone head on with the commonly sighted heavyweights like the
Honda Civic
, the
Hyundai Avante
and the
Toyota Altis
, it now seems more apt to have this new model pitched against the more fine-looking cars the
Audi A3 Sedan
and perhaps even the upcoming
Mercedes-Benz A-Class Sedan
.
It seems like a small feet for a big shoe
But that doesn't mean it's putting on a pair of shoes that's a couple of sizes up. Given that simplicity is the name of the game, Mazda did not stop with its exterior.
Its cabin, for example, has been redesigned with a new layout that is visually uncluttered, thanks to the repositioning of the cup holders to the front and Mazda's rotary knob that controls the functions of the new 8.8-inch speedy infotainment system that projects more modernised text, graphics and layout.
The gear knob has also been redesigned, together with a centre console armrest, which slides back before having to lift up where your arm needs to be - all done to ensure your shoulder doesn't attain any forms of strain.
A reputation for premium status
It's a delight, really. Engineers and designers of the Mazda3 have obviously paid extra attention to detail to the cabin. Pure premium quality oozes from every switch and button, with a satisfyingly classy click and pressure feel to every one of them.
Also satisfying is the punchy and powerful hi-fi, with a standard sound system transmitting through eight speakers - two of which are nicely covered up by the dashboard at the front footwells.
Even the seats have been researched and redesigned to better support your pelvis in order to hold you in place when you're on the move. It's no Audi, mind you, but the vast improvements over other cars in its class are undoubtedly honourable.
These changes clearly add up to allow for a neater and more functional setup for the occupants upfront.
As for rear passengers, there is sufficient head and legroom for three adults. Wheelbase for the sedan has been increased by a significant 25mm to 2,725mm, while its boot space has expanded to a generous 450 litres.
Ride along as one with the car
On the move, the Mazda3 Sedan responded well to my intentions around the track at Mine Proving Ground. Despite Mazda making a decision to drop the multi-link rear suspension for a modified torsion beam rear for the new generation car, the front-wheel driven sedan showed little signs of understeer.
Comparing it to its predecessor, it has a keener turn-in around bends, with a sharper steering feel that provided me with greater confidence to pierce through corners at higher speeds despite the wet weather that we experienced during our test drive.
It's significantly quieter too. Thanks to thicker panels and glass windows, external noises are kept well at bay - yet another one of the new Mazda3's upgrades.
That said, the Skyactiv-G 2.0-litre gasoline engine that we tested would not be making its way to our shores. Instead, Singapore plans to introduce a 1.5-litre mild hybrid variant that's mated to a six-speed automatic transmission soon.
This said 24V mild hybrid system will not be used to boost the car's performance, but will instead be utilising electrical assistance to help improve the car's fuel economy.
Good things are coming...
Based on the new Skyactiv-Vehicle Architecture platform, the new Mazda3 comes available with several engine options, including the new Skyactiv-X gasoline powerplant.
For Singapore's market, Mazda will be sharing more information about the new said engine in due course.
Alternatively, you can watch our video review of the Singapore spec car right here!