Fast, agile and rowdy, yet still manageable and under control, the Mercedes-AMG C43 Coupe proves to be a delightful driver's car.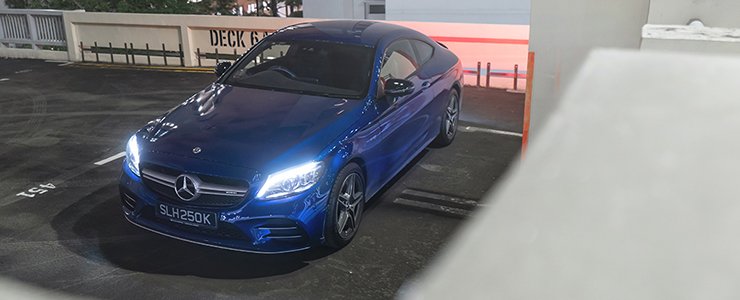 When you think of AMGs, you immediately conjure up images of smoking tyres, screaming engines, and all manner of hooligan behaviour. After all, that's what an AMG is all about, right?
And I will admit, I love me a silly car. The
C63 S
is one such car. Yes, it's got more power than it needs, the car finds five ways to kill you anytime you go near the throttle, and it's loud enough to wake up the whole neighbourhood, but it's insensibly brilliant (again, sort of the point).
So, what happens when you take that formula, but give it less power, less rear-wheel drive and less shoutiness? You get something like this - the
Mercedes-AMG C43 Coupe 4MATIC
. 
Doesn't look very bonkers...


The C43 has undergone a facelift, and with it come some light aesthetic changes. The front fascia has been updated with a new sculpted front apron and two side louvres with chrome and black flics, while the rear features a diffuser and quad tailpipes to hint at the car's beastly abilities.
Beyond that, there are new light-alloy wheels, LED High Performance headlamps, and a shoulderline trim strip in high-gloss black. Which is to say, the car much the same as it used to - nothing wrong, considering how pretty it is. 
Doesn't seem very bonkers...


Interior changes are again on the subtle side. However, two changes are important. First, there's the new AMG three-spoke sports steering wheel with the touch control buttons. This allows you to operate functions on both the 12.3-inch digital dashboard and 10.25-inch central media display without taking your hands off the wheel.
Second, the infotainment system has been updated to the newest generation interface, a much, much better and more intuitive system to use. Menus are sleek and intuitive to navigate, and it helps bring this car up to date with the rest of Mercedes' lineup.
Doesn't feel very bonkers...


Under the hood is a 3.0-litre V6 biturbo engine producing 385bhp and 520Nm of torque. Those aren't paltry figures at all - 0-100km/h takes just 4.7 seconds, and the car will top out at 250km/h.
Mash the throttle and the C43 accelerates forward with enough shove to elicit angry shouts from your passengers, so it still is very much capable of doing the AMG-thing of scaring your passengers. However, because power is sent to all four wheels, the car is much better at going in a straight line (compared to the C63 that just wants to fishtail everywhere). And when you eventually need to shed speed, the brakes deliver fantastic stopping power.
However, where the C43 really stands out is its handling. The electromechanical speed-sensitive power steering offers good amounts of feel. Plus, the car's front-end is sharp, direct and responsive. But importantly, while the car changes direction aggressively and immediately, it still maintains great balance and poise mid-corner. It's planted and sure-footed in a way the C63 S could never be.
The 9GTRONIC transmission does its job, but we reckon it could be quicker in manual mode. The gearbox takes a fraction of a second to respond after you click on the paddle shifters. The AMG Ride Control adaptive dampers have also been tweaked for improved ride comfort, while also providing high camber stability when cornering at speed.
So, where performance is concerned, the C43 has ample shove to scare your passengers, but not so much power to scare you as the driver. It treads that fine line between sufficient and excessive performance, and that's delightful.
And, when you're done being a hooligan, the C43 still functions as a daily driver. Put it in Comfort and the noise pipes down, the suspension is forgiving over bumps, and the car feels quite normal. It sheds the perpetual anger of the 63 model for something a little more civil and sensible. 
So, it's not very bonkers?


No, it's not, and that's why it's brilliant. You see, a bonkers car is great for making a ruckus or showing off to friends, but for the rest of the 80% of the time when you just need to get from place to place, you want a car you can actually use. The C43 is well-mannered, able to calm down and just take you from home to the office without all the pomp and circumstance.
Thus, this C43 Coupe is undoubtedly the better driver's car. It's much more under control, more predictable and more reigned in. It's a car that you are willing to push a little harder, without having to worry about it snapping at you.  
Admittedly, the C43 isn't the full-blown AMG experience. If that's what you're after, go get the C63 instead (and try not to kill yourself while you're at it). The C43 is the sensible un-sensible car - it certainly delivers AMG fury, but at the same time still performs its duties as a sensible daily car. It's well-tempered madness, and absolutely delightful. 


There's a
promotion
for Mercedes-Benz C-Class Coupe
Engine Type
:
V6 Bi-Turbocharged
Horsepower
:
287kW (385 bhp) / 6100 rpm
Torque
:
520 Nm / 5000 rpm
Transmission
:
9G-Tronic (A) AMG Speedshift TCT
Acceleration (0-100 km/h)
:
4.7sec
Fuel consumption
:
10.6 km/L