More aggressive-looking, more technologically-endowed and with greater dynamic capability, the facelifted C63 S is objectively better than before.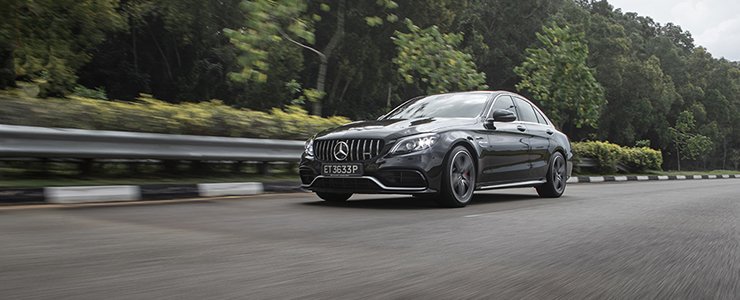 Confession: I
love
the
Mercedes-AMG C63 S.
More than just the car, it's the concept alone that enthrals me - stupid amounts of power, ear-bleeding noise, tyre-shredding madness. It's a combination that's sure to get under anyone's skin (for better or worse). It's a gratuitously childish car for those of us who are, deep down, just an insolent kid looking for a laugh.
Now, Mercedes has updated the C63 S, so is this facelifted model still as bonkers as before? 
A new look


The first thing you'll notice about this car is the new Panamericana front grille, first debuted in the hardcore AMG GT-R. At the rear, there are two remodelled twin tailpipe trim elements in high-gloss chrome, a more expressive diffuser, and a diffuser board on this S model, all adding up to a more aggressive and muscular design.
The interior also features a host of improvements. The central infotainment display has grown significantly, while the dashboard has gone fully digital. There's a new steering wheel, with a rotary knob on the right (we'll get to that later) and two additional buttons on the left side.
The facelift helps bring the car up to date with the rest of its C-Class brethren, while also improving everyday quality of life for the driver and passengers too. 
A renewed sharpness


Dynamically, there's a lot to love about the new car. An AMG is still (in our opinion) fundamentally defined by its engine, and this one cannot disappoint. The handcrafted 4.0-litre powerplant is world-class. It shoves out 503bhp and 700Nm of torque, capable of sending the C63 S from 0-100km/h in four seconds.
But more importantly, it's full of character - menacing and growly at low revs, full of violent anger and rage at higher revs. Unlike an M engine, which is more a precision tool, this AMG engine is a personality all to itself.
All that urgent power is accompanied by an ungodly noise. The car is already so obnoxiously loud, but the noise ratchets up another notch when you cross 5,000rpm. It's so deeply intoxicating that you just want to hold a lower gear and let the rev-hungry V8 rush all the way to the 7,000rpm redline, fuel consumption be damned.
The new AMG Speedshift MCT 9G gearbox is also a notable improvement from before. It reacts much quicker, and has shed the downshift hesitancy that used to plague the previous one.
The engineers have also made the C63 S more dynamically capable than before (and added a ton more modes too, while they were at it). An electronically controlled rear-axle limited-slip differential and dynamic engine mounts come as standard. The steering is urgent, direct and meaty, egging you on to wring the car hard through corners.
It also delivers more dynamic malleability, thanks to the ample different dynamic settings available. The aforementioned rotary knob can be used to select the various drive modes (six in total), as well as to choose from nine different traction control settings.
Also new to the C63 S is AMG Dynamics - a four-stage system that controls relevant parameters including engine response, the rear diff, torque vectoring and the stability control. 'Basic' is somewhat benign, 'Advanced' a little livelier, 'Pro' for ample agility, and 'Master' is for, well, fools. 
Too many options? Probably. 
The car is also more civilised than before, when you do decide to switch off loud mode (rarely, in our case). It's more usable daily, with the suspension offering a tad more suppleness than before.
And of course, switch all the nannies off and it's still a tyre-shredding maniac. Take any corner at 40% throttle and you best be ready to throw on some opposite lock. There is a reason this particular setting is called 'Master' - you better know what the hell you are doing, because no one's going to save you.
Good news, bad news


So, it's all good news then? Well, objectively, yes. The car has been improved in many ways. It's got more creature comforts and technology, it's more refined to drive, and is more dynamically capable than before.
That said, the car is still hilariously and ridiculously good fun. It's louder, faster and slide-ier than anyone really needs a car to be, but that's AMG in a nutshell, no?
But, and it's a big but, I am struggling to love this new C63. It does so many things better, but there's one aspect that's been slightly tempered - it's sheer outrageous stupidity.
See, the old car was nigh undriveable. It was out to kill you every time you hit the ignition button. It made you swear profusely, scream loudly, breathe so hard your lungs might collapse. It was fundamentally ridiculous and childish.
The new car… doesn't quite do that to you. Yes, it's a thoroughly capable high performance sedan, more capable than before in fact, but to do that it has sacrificed some of its savage recklessness.
And with the C63, that just doesn't seem right. The simple thought that it could sort of even begin to be a sensible car, doesn't sit well with me. It's a bit grown up, this car, and I want my C63 to appeal to the insolent child who refuses to grow up.
And for that reason alone, I don't love this car quite the same. Mercedes has objectively made the car better, but I can't help but feel like that's made it worse.
That's my tempered love affair with this car. Pity, because it's a bloody fantastic car.


There's a
promotion
for Mercedes-Benz C-Class Saloon
Engine Type
:
V8 Twin-Turbocharged
Horsepower
:
375kW (503 bhp) / 6250 rpm
Torque
:
700 Nm / 4500 rpm
Transmission
:
9G-Tronic (A) AMG Speedshift MCT
Acceleration (0-100 km/h)
:
4sec
Fuel consumption
:
9.9 km/L