The Mercedes-Benz CLA200 AMG Line adds a touch of sporty equipment without taking away from the car's innate comfort, stylishness and daily capability.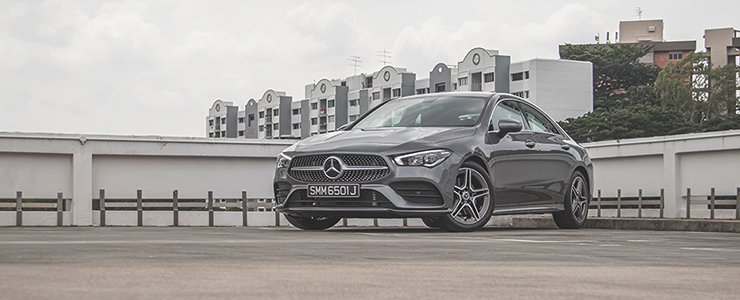 This is the new
Mercedes-Benz CLA-Class
, and you would have already read our review of the car (if you haven't, 
here
 it is). The CLA has a lot going for it - it looks good, the cabin is well-equipped and it certainly exudes a premium feel, and the drive is surprisingly perky without compromising on comfort.
So, what's this car you are looking at, then? Well, it's pretty much the same car, bar some minor differences.
What's different?


This is the AMG Line variant. Much like the
B-Class
we also recently reviewed, the differences between the Progressive trim and AMG Line trim are largely cosmetic.
The only mechanical difference is the suspension. This AMG Line has a 'lowered comfort suspension'. The good news is that unlike in the B-Class, this AMG Line model isn't notably harsher riding. In fact, on the road the differences between the two are fairly imperceptible.
Beyond that, in this AMG Line model you get AMG front and rear aprons, AMG side sills, sports seats, a flat-bottomed multifunction sports steering wheel in nappa leather, cooler-looking AMG light-alloy wheels, and light longitudinal-grain aluminium trim elements. 
And it drives the same, then?


This model is powered by the same turbocharged 1.4-litre engine producing a respectable 161bhp and 250Nm of torque. Rev it past 2,500rpm and the engine sounds and feels quite rough. However, keep the revs under 2,000rpm and it's quiet and refined enough.
The CLA-Class is surprisingly light on its feet, with the nose sharp and attentive to your steering inputs. Importantly, it also doesn't compromise on comfort at all.
Complains? Well, the seating position is higher than we'd like it, and the seats aren't the most comfortable. Also, space in the rear cabin is not particularly generous, as a result of the sloping roofline.
So, which should I buy?


Honestly, the Progressive model delivers a lot of what you actually 'need'. It's a car that's easy to like, easy to live with and, obviously, has a desirable badge. It also already packs plenty of equipment.
Anything additional is obviously just a 'want'. This AMG Line package will cost you $6,200 more on top of the Progressive model's $181,888 pricetag (as of 15 August 2019), and you can easily pick up even more equipment from the options list.
Unlike with the
B-Class AMG Line
, choosing this AMG Line model doesn't notably compromise the car's core capabilities in any way. So if you want a CLA-Class Coupe that looks and feels just a little more sporty and different then, yes, this AMG Line model is right up your alley.
For those still wondering if they should opt for the AMG Line, why not watch our review of the car in video format?