The 2.0-litre Toyota GR Supra may be slower compared to its 3.0-litre brethren, but it feels lighter and more agile on its feet.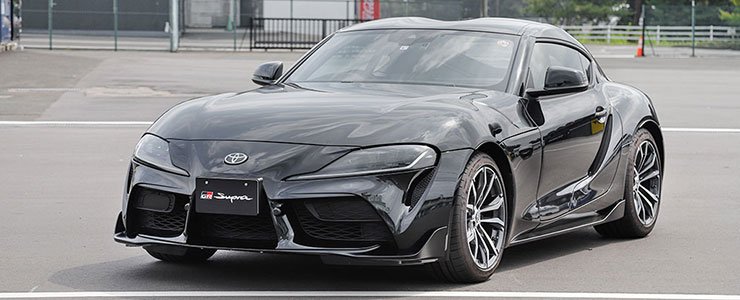 It's true that there is no replacement for displacement. The bigger the engine capacity, the more power and speed you get to enjoy.
At sgCarMart, however, the Editorial Team has a rather unpretentious and mature belief that more speed doesn't necessarily equate to more fun.
Yes, the all new
3.0-litre Toyota GR Supra
(GR stands for Gazoo Racing, Toyota's performance brand) is arguably the one most buyers will want to have. It's brutally quick, has bigger wheels (19-inch) that make it look good, and has four-piston Brembo calipers that will relentlessly bring the Japanese sports car to a halt without a hint of falter.
But that doesn't mean the 2.0-litre Supra - a variant that Singapore will also be getting - is a lesser sports car. If anything, this car is our weapon of choice, and for good reasons.
What sort of reasons?
For starters, this car will obviously be cheaper. It should be approximately $20k lesser than its 3.0-litre brethren when the car arrives, or about $70k lesser than the similarly-powered 2.0-litre BMW Z4.
Another saving you'll relish is the annual road tax.
The 3.0-litre variant will set you back about $2,384, while the 2.0-litre is significantly less hefty at $1,210. This amounts to a saving of 49.2% every year.

Wait, that's it?
More importantly and relevantly to potential Supra buyers, the 2.0-litre variant that we drove on the track at Sportsland Sugo is nothing short of impressive.
Yes, with 255bhp and 350Nm of torque, the car is certainly slower on the track compared to the 3.0-litre alternative and you feel it on the long straight, but because it weighs 100kg lighter, it feels light and agile on its feet. This makes it a lot less brutal and a lot more fun and accurate to penetrate the car through corners.
In that sense, you could say that this variant successfully delivers driving thrills rather than just mere straight-line capability. This is something not many in its class can boldly claim in a day and age where more and more carmakers are creating products for the sake of business strategy rather than pure driving joy.
Looks like we're in for a treat!
With the fifth generation Supra, the car has an unadulterated expression that allows drivers to appreciate for what it really is. It's all about being honest in the truest sense of the word.
Yes, the car you see here is weaker of the two variants, but it communicates with you with no conditions and no desperate attempts to be liked. And that's why we enjoy this car more than anything else.
Tentatively, the car will arrive in October this year.