BMW's 5 Series was the best-selling car in Singapore in 2011, and the new 520i looks set to extend its market dominance even further.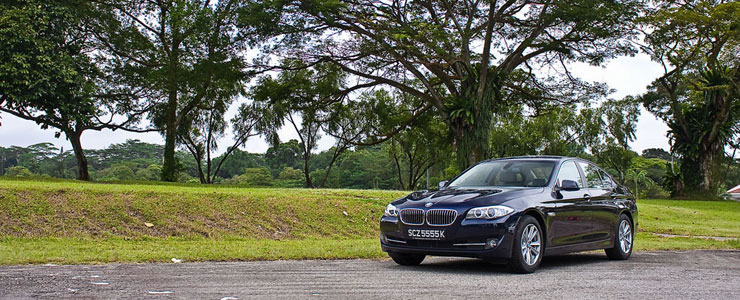 BMW's rise to the top of the sales charts have been nothing short of astonishing. Singapore is the only market in the world where a premium carmaker like BMW is the top dog, although the trend is not without precedent. Mercedes-Benz was once briefly king of the hill in the mid-90s with its E-Class, when COE prices mirrored current situations.

While BMW's success in Singapore can be mostly attributed to the revised COE quota structure, the Bavarian carmaker's efforts in product engineering and marketing plays no small part in its ascent to the peak. There has to be a reason why buyers opt for the blue propeller over the three-pointed star or four rings.

The 5 Series, in particular, has been a major hit since its launch in 2010, going on to become the best-selling model locally last year. This is despite a limited range of high-capacity engines in its line-up, with tax-unfriendly 2.5-litre, 3.0-litre and 4.4-litre powerplants.

Now though, BMW has sought to cement its position at the top with the introduction of new 2.0-litre engines for the popular 5 Series. The new four-cylinder turbocharged unit promises improved fuel economy, with no detriment to performance whatsoever. Not to mention the reduction in road tax, which will definitely bring a smile to budget-conscious Singaporeans.

The 520i tested here replaces the top-selling 523i model in BMW's local line-up, and for the first time in a long while, the model designation matches the actual engine capacity. But is smaller better?

Exterior
Aside from the badge on the boot lid, there is very little to differentiate the new 520i from the masses of other 5 Series sedans populating our roads out there. The new 17-inch alloy wheels are a subtle giveaway, but that's about it.
It's a bit disappointing, but totally understandable. After all, why change a good thing? The 5 Series clearly has its fans, and its restrained looks appeal to its target demographics, mainly middle-aged businessmen or executives who are on the midway point to success at the top.
Asians are a conservative lot anyway, and they find no need to shout out their achievements with flashy designs. The 5 Series blends in well with the crowd, greatly helped by the fact that there are so many of its kind out there. A self-fulfilling prophecy perhaps.
30 Oct 2013
Like an altered Tuxedo, the 5 Series loads on a handsome array of gadgets and features to be more fitting for the well-heeled than before.
Read more
This model is no longer being sold by local distributors
Engine Type
:
4-cylinders in-line TwinPower Turbocharged
Horsepower
:
135kW (181 bhp) / 6250 rpm
Torque
:
270 Nm / 4500 rpm
Transmission
:
8-speed (A) Steptronic
Acceleration (0-100 km/h)
:
7.9sec
Fuel consumption
:
15.6 km/L