Mazda's greatest hit undergoes a subtle remake for the 2012 model year. But are the changes good enough to keep it from rival's harm?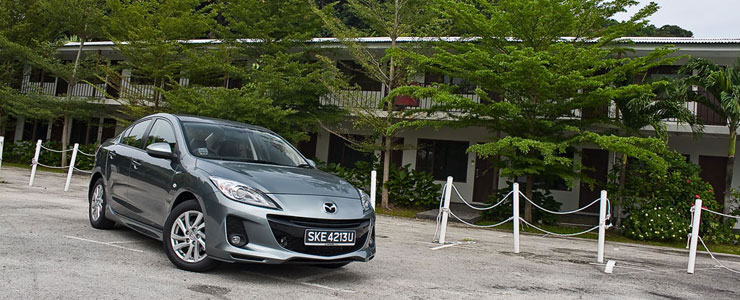 Good looks, fun-to-drive characteristics have put Mazda in the limelight in numerous occasions. Especially in the recent decade or two, the marque has been famed for its 'X-creations' such as the MX-5 and RX-8, which are deemed as some of the best driver's cars on the market with a relatively low price tag (note "relative" - no car comes cheap in Singapore).
Somewhat expected, the marque's four-door offerings have a considerably different fate from its sportscar stablemates. Pause to think for a moment, the last statement is actually pretty much arguable. Let's not forget what the Japanese carmaker did in the 1990s - the good heydays people carrier stirred countless emotions, namely the two different generations of 323 Astinas; one of which even dawn the era-psyche pop-up headlamps.
The predecessors of the Mazda 3: Who would have thought that bread-and-butter cars could look so good?
Fast forward today, there is no doubt that the largely unchanged Mazda 3 is still one of the cult-leading, smarter-looking compact sedan in the market. And as if the designers already know a thing or two, the latest variant still carries that smirk on its face.
Exterior
Mazda's best hit takes a subtle stand in aesthetics changes for the new 2012 mode, where it will take more than a keen eye to spot the differences between the pre and post facelift offerings.
Besides a slightly re-worked front bumper, the side and rear profiles are kept similar. Despite the minute changes, Mazda engineers have claimed that the revised outlook is now more "slippery", which means better fuel efficiency thanks to the reduced drag coefficient.
This model is no longer being sold by local distributors
Engine Type
:
4-cylinders in-line 16-valves DOHC
Horsepower
:
78kW (105 bhp)
Transmission
:
4-speed (A)
Acceleration (0-100 km/h)
:
-
Fuel consumption
:
12.3 km/L