Combining for the first time Mazda's Soul of Motion design language and SkyActiv technologies, the CX-5 promises to be the gem of its lineup.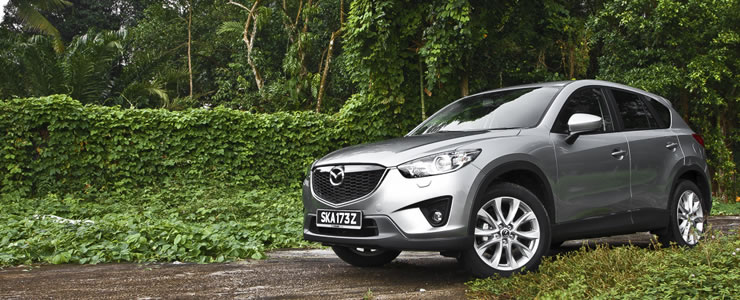 Build from scratch - a phrase that is increasingly scarce in this era where component / platform sharing is the key for profitability in the mass-produced automobile market.
Yet, these words appeared in Mazda's latest CUV (Compact Utility Vehicle) brochure. The CX-5 is also its first offering to feature SkyActiv technology with its Soul of Motion (KODO) styling cues.
In the name of better driving dynamics, SkyActiv combines its latest efficiency-optimised powertrain, with lightweight chassis construction. The soft off-roader (local CX-5 variants are FWD) also features a fully revised suspension system
Exterior
Like its sedan stablemates, the CX-5 took on a smart, modernised design. Crisp styling lines flank each side of the bonnet, running through the body and sides, hints at the undertaking of the firm's latest crafting language - Soul of Motion. Up front, the CX-5 still bears the family-signature grille, and headlamps resembling those found on its stablemates.
The rear hatch is more acutely shaped, with a distinctive lip running between the lamps - a pleasant departure from the more chubby-looking SUV brother.
In luxury guise, the CX-5 packs 19-inch alloys (the lesser trim receives 17-inch), as well as a sun-roof. Headlamps with HID function, as well as fog-lamps (as much as they are less of a necessity on our local shores) come standard in the luxury package too.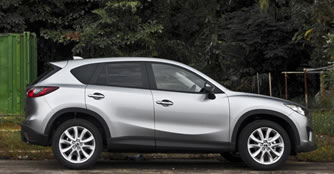 The CX-5 inherits modern styling cues - 'Soul of motion'
This model is no longer being sold by local distributors
Engine Type
:
4-cylinders in-line 16-valves DOHC SkyActiv
Horsepower
:
114kW (153 bhp) / 6000 rpm
Torque
:
200 Nm / 4000 rpm
Transmission
:
6-speed (A)
Acceleration (0-100 km/h)
:
9.5sec
Fuel consumption
:
14.5 km/L