Mercedes-AMG leaves no effort in making its first hatchback as the hottest yet in the market.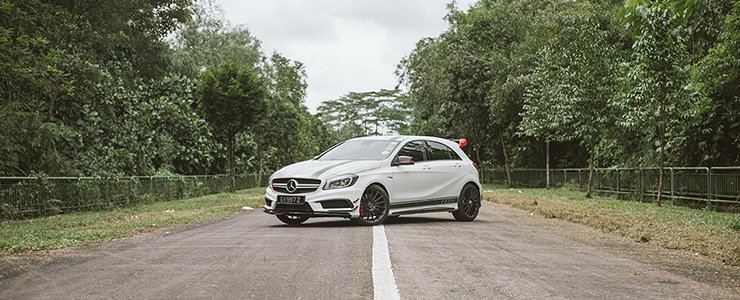 The people at Mercedes must have thought buyers of each automotive segment could do with more power. Or perhaps, they believed that there is a hidden monster living within us who craves to relish those glorious moments in Gran Theft Auto - in the real world.
Else, why would they have handed each and every model in their lineup to their next door counterparts - AMG?
The
A-Class
is one of the most recent to receive the AMG treatment - but not the ordinary spruced up kit with a large capacity, naturally aspirated plant that lies in the heart of the machine.
Instead, the A45 gets a relatively smallish 2.0-litre (compared to the monumental 6.3-litre on other AMG offerings), force-fed unit. And being the first AMG to be based on a front-wheel drive hatchback, the A45 is equipped with 4MATIC all-wheel drive system to rein in the horses and ensures that they are safely and effectively dispatched on the tarmac. 
The people at Mercedes, though, has assured us that it still gets all the character (and power) that will deem it fit to wear the shimmery AMG badge.
A quick look at the specs sheet reaffirms that too. With 355bhp on tap, the 2.0-litre unit produces more power per litre than any of the cars we see on the roads, rivalling even the new Porsche 911 GT3 and Bugatti Veyron Super Sport. Now, these are some bragging rights to behold.
Exterior
The A45 looks properly dressed for the occasion with a series of add-on bits that mark it out from its tamer-looking siblings. Never have we quite seen any Merc dressed up to look every bit like this - a bad boy's racer. 
And while we have been fond of how subtle AMG cars are (or were), we like how the fins on the front flanks and the fixed wing at the top of the rump remind us of our love for racing cars - flamboyant yet looking purposeful at the same time. 
With a 'Turbo' script above the AMG badge, it seems that those who conceived the A45 weren't shy about it.
This model is no longer being sold by local distributors
Engine Type
:
4-cylinder in-line Turbocharged
Horsepower
:
265kW (355 bhp) / 6000 rpm
Torque
:
450 Nm / 5000 rpm
Transmission
:
7-speed (A) AMG Speedshift DCT
Acceleration (0-100 km/h)
:
4.6sec
Fuel consumption
:
14.1 km/L