---
The Subaru WRX features a new look, an improved and more spacious interior along with more goodies under its skin.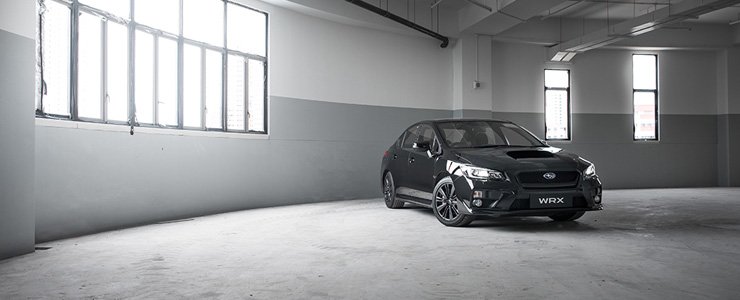 Ever since its debut in 1992, the Subaru Impreza WRX (nicknamed 'Rex' by followers) has been a cult favourite with boy and, increasingly, girl racers as well as enthusiasts that share the same passion.
Last November, Subaru
debuted
the all new WRX at the Los Angeles Auto Show, featuring a more mature appearance and vibe.
In addition to losing the Impreza name so as to signify a higher performance bloodline, the WRX has also ditched its hatchback body style.
Up close and Personal
Compared with the
WRX STI
, the WRX is less flashy. Keeping things on a lower profile, the car you see here is subtler than its sibling in terms of its outfit.
The new nose of the WRX incorporates the hexagonal Subaru grille (STI gets an additional badge) with a gaping under-bumper air intake. Surrounded by stylish LED headlights and a noticeably lower bonnet scoop, there is an aggressive overall look and a raring-to-go attitude.
Round the back, the WRX only gets a minor lip spoiler instead of the huge wing as seen on the STI. But the quadruple tailpipes together with the rear diffuser are nods to the WRX's performance car attributes.
The new WRX's interior is vastly improved over previous models. It may not be the best in its class but is still comfortable, nicely laid out and classy.
Soft-touch material is found throughout the cabin and the well-bolstered leather seats offer good support for sporty driving.
With the windscreen and A-pillars moved forward, and a low-set dash with clear dials under a hooded binnacle, the inside of the new WRX feels considerably bigger than its predecessor and offers better visibility for the driver.
As such, there's good legroom in the back and there's no trouble getting all the grocery bags or luggage in the decent 460-litre boot.
This model is no longer being sold by local distributors
Engine Type
:
4-cylinder horizontally-opposed, 16-valve DOHC turbocharged
Horsepower
:
197kW (264 bhp) / 5600 rpm
Torque
:
350 Nm / 5200 rpm
Transmission
:
Sport Lineartronic (A)
Acceleration (0-100 km/h)
:
6.3sec
Fuel consumption
:
11.6km/L