If practicality ranks top on your list, the new Subaru Outback is your best soldier.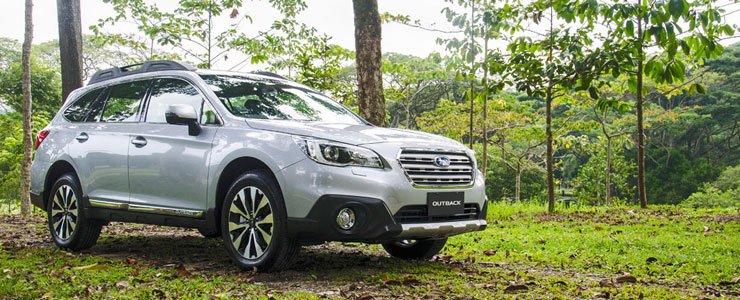 The Subaru WRX performance sedan might be the most well-known model from the Japanese carmaker, but where the title of flagship is concerned, it belongs to the Subaru Outback crossover. Originally the wagon body form of the Legacy executive sedan, the desire for greater product definition in the Subaru lineup saw the Outback come into its own and distinguished as a standalone model.
And in this latest iteration, the wagon has grown a little taller, with more structure in the boot to become a crossover, complete with sliding roof rails to better tap on the market's voracious appetite for SUVs and crossovers.
Exterior
On first glance, given its 1,675mm height, the Outback might be comparable to its outdoorsy cousin, the Subaru Forester. But on closer inspection, the Outback reveals its close relation to its non-identical twin, the Legacy sedan. Obviously cut from the same cloth, the Legacy shares the same sleek sedan-like body shape and even has the same active shutter-grille on its nose as its sibling.
The difference between the two, then, is like how twins can have different interests. Between them, the Outback took an interest in outdoor activities and spent some time bulking up in the gym. This is evident in how the crossover's 213mm ground clearance is 63mm higher than the Legacy's.
Lengthwise, the Outback's 4,815mm is 20mm longer than the Legacy's, thanks to skid plates that complete the outdoorsy look. While both cars share the same 1,840mm width, the crossover, quite obviously, has the large-scale carrying capacity for gear in its cavernous 1,801-litre boot.
However, besides fulfilling the promise of what its physique is capable of, its evolutionary average Joe looks will not see it garner any beauty pageant nominations.

Engine Type
:
4-cylinder 16-valve DOHC Boxer
Horsepower
:
129kW (173 bhp) / 5800 rpm
Torque
:
235 Nm / 4000 rpm
Transmission
:
Lineartonic CVT (A)
Acceleration (0-100 km/h)
:
10.2sec
Fuel consumption
:
13 km/L