Being the one and only diesel-powered rear-wheel driven car in its class, the BMW 116d proves to be fun yet frugal.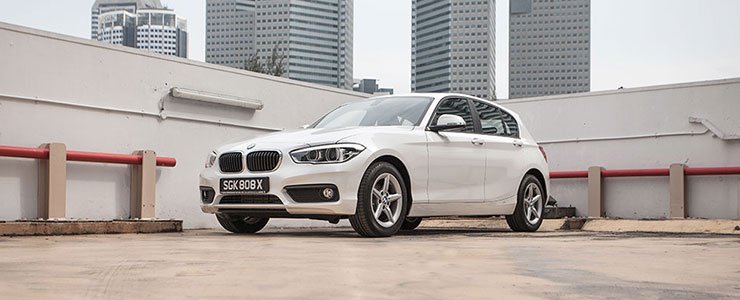 At $138,800 (as of 21
st
August 2015), the car you see here is about the cheapest brand new BMW you can get now. But being cheap doesn't mean it's shabby in any way, especially since it's now equipped with just a 1.5-litre three-cylinder diesel powerplant - the same engine that can be found residing under the
MINI Cooper D
's bonnet.
Before the tweak to the COE system - which took effect from February 2014 - where cars with engine capacity up to 1,600cc are required to have an engine output lesser than 130bhp to qualify as a Category A car, the Bavarian marque was enjoying the sales of the
BMW 316i
- a highly desirable 1.6-litre Category A compact sedan that attracted many buyers.
Since the new regulation was imposed, BMW remained as a heavyweight Category B champion… until now.
Up close and Personal
Competing against the likes of the
Audi A3 Sportback
and the
Mercedes-Benz A-Class
, the 1 Series may not be as good-looking, but it sure does look better than before. Restyled head and taillights indicate the higher level of maturity of the car while resculpted bumpers have allowed the 1er to maintain its classy and premium appearance that's worthy of the Bavarian badge.
There's no mistaking BMW's signature work on the inside, with a neat and user-friendly centre console that's nicely angled towards the driver. This also means not much has changed from its predecessor, but that's really no bad thing.
While it's not as stylish as the A3 Sportback, the cabin of the 1er is well-built and it does feel more comfortable than the A-Class. Space in front is generous but that, however, cannot be said for the rear quarters, which is best left for two - no thanks to the transmission tunnel that takes up precious space for the centre passenger.
Still, at 360 litres, the 1 Series boasts more boot capacity than the A-Class but loses out to the A3 Sportback. Knock down the rear seats and a generous 1,200 litres of space is created to see to your Sunday shopping at IKEA and NTUC.

Engine Type
:
3-cylinder in-line 12-valve TwinPower Turbocharged
Horsepower
:
87kW (116 bhp) / 4000 rpm
Torque
:
270 Nm / 2250 rpm
Transmission
:
8-speed (A)
Acceleration (0-100 km/h)
:
10.3sec
Fuel consumption
:
25 km/L