---
We put Suzuki's new sporty compact sedan, the Ciaz, against entrants like the quirky Chevrolet Sonic Sedan and charming Mazda2 Sedan.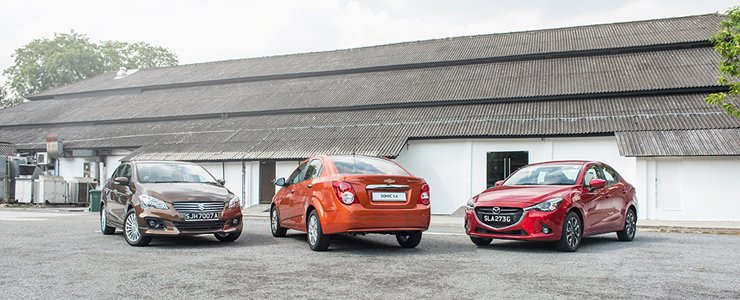 In an era where crossovers and Sport Utility Vehicles (SUV) dominate the roads and constantly top sales charts, it's easy to neglect the motoring staple that is the compact sedan.
Though small, these bread and butter mobiles are reasonably sized for a small family, fuel efficient and value for money.
With the technological arms race happening around us today, compact sedans are no longer the mundane boxes on wheels they used to be. Whatever your motoring needs may be, you can bet that there is a compact sedan in the market that will fulfill them.
Here then, are three examples that make interesting choices, the
Chevrolet Sonic Sedan 1.4 LTZ
, the
Mazda2 Sedan 1.5 Deluxe
and the new kid on the block, the
Suzuki Ciaz 1.4 Premium
.
Exterior
Unlike the tamer-looking Mazda2 and Ciaz, the Sonic's playful and anarchistic styling, thanks to its aggressive front snout and somewhat angry-looking headlamps, will tug at the heartstring of younger buyers.
But that doesn't mean that its Japanese competition loses out in this respect as well.
This may have been said many times over, but probably for good reasons. Mazda's 'KODO: Soul Of Motion' design philosophy is, in our opinion, the best thing the marque has come up with since the RX-7.
The Mazda2's sharp and suave demeanour is evergreen, and it won't have a problem appealing to buyers of all ages and all walks of life. Looks are subject to individuality but with regards to beauty, the Mazda2 is the apple of our eyes.
The Ciaz, on the other hand, isn't as strikingly flavourful as the Sonic or Mazda2, even with the RS aero kit that comes with the car. But simplicity is customarily the key with these compact sedans and the Ciaz's down-to-earth presence does a good job in working to its favour.
This model is no longer being sold by local distributors
Engine Type
:
4-cylinder in-line 16-valve ECOTEC
Horsepower
:
74kW (99 bhp) / 6000 rpm
Transmission
:
6-speed (A)
Acceleration (0-100 km/h)
:
12.9sec
Fuel consumption
:
15.6km/L
This model is no longer being sold by local distributors
Engine Type
:
4-cylinder in-line 16-valve DOHC SKYACTIV-G
Horsepower
:
85kW (114 bhp) / 6000 rpm
Torque
:
148 Nm / 4000 rpm
Transmission
:
6-speed (A) with manual shift
Acceleration (0-100 km/h)
:
9.9sec
Fuel consumption
:
19.2km/L
This model is no longer being sold by local distributors
Engine Type
:
4-cylinder in-line 16-valve DOHC with VVT
Horsepower
:
68kW (91 bhp) / 6000 rpm
Torque
:
130 Nm / 4000 rpm
Transmission
:
4-speed (A)
Acceleration (0-100 km/h)
:
12.4sec
Fuel consumption
:
18.5km/L