Planning to sell your car to a used car dealer? sgCarMart Quotz helps owners to fetch the best price for their cars without any hassle.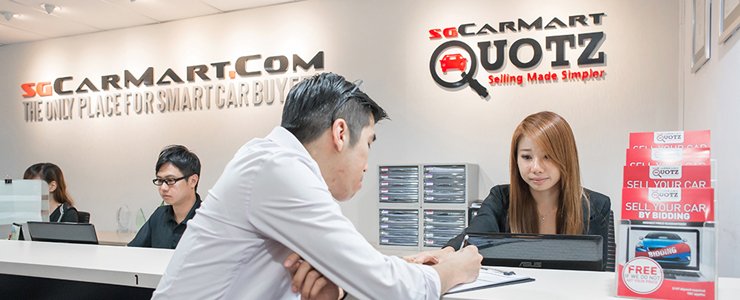 Besides trading in their old cars at the time of a new purchase, the most popular avenue that motorists use to sell off their pre-owned rides is to sell them directly to used car dealers.

Well-versed with how the trade works, dealers can help to take care of troublesome paperwork while fetching decent returns for car owners.

With over 600 used car dealers in Singapore, knowing which one to sell to is an art that can help car owners fetch a price difference of between five to 15 percent.

This is because purchase prices offered by dealers can differ greatly. Try asking a used car dealer who specialises in Japanese cars to buy your BMW, and he will likely play on the safe side and quote you a low and conservative price as he is unfamiliar with the car.


Moreover, dealers are prone to overpromise on the car price over the phone and may not honour it when it comes to the actual deal, hence making price comparison difficult and time consuming.

To help owners maximise returns for owners who are looking to sell their cars, sgCarMart Quotz offers a unique service that puts used cars up for bidding to used car dealers. To date, more than 300 dealers are taking part in this bidding system.

By driving up competition between used car dealers, cars sold via this channel are able to fetch higher prices. With car owners in mind, the entire process is also designed to be as hassle-free as possible.

Lynn Chua, Customer Service Supervisor at sgCarMart Quotz, explains, "First, we will provide an indicative value and set a reserve price that the car will minimally fetch. Next, we will assess the condition of the owner's car and take note of parameters that are important to used car dealers, such as the quality of paintwork and if the car needs any repairing or replacement of parts."

"The car will then be listed on a bidding system, which more than 300 used car dealers have access to. The bidding will close by 5:30pm on the next working day, and we will notify the owner of the final bid price. If the owner is satisfied with the price, the dealer will then contact him directly to carry out the transaction," Lynn added.
The advantage of sgCarMart Quotz's 'Sell by Bidding' service is that the owner has no obligation to accept the final price. The owner also has the flexibility of choosing his preferred handover date of the car.
sgCarMart Quotz provides a money-back guarantee that the bided price will exceed all offers on the market, and also guarantees to hit the reserve price that has been set prior to the bidding. "We will give a 100 percent refund if any of the guarantees are not met," says Lynn.
The 'Sell by Bidding' service is available at sgCarMart Quotz at a cost of $100 (before GST).
sgCarMart Quotz is renowned for its efficiency, convenience and value-add to its customers. It helps more than 400 car owners to sell their cars each month. Judging from numerous testimonials on its
Facebook page
, users have positive experiences with the service.
The company is also the sole official vehicle auction platform for various government agencies, such as the Land Transport Authority (LTA), the National Environment Agency (NEA) and the Singapore Customs.
Please visit sgCarMart Quotz's
website
for more information.
sgCarMart Quotz (Quotz Pte. Ltd.)
Address: 61 Ubi Ave 2, Automobile Megamart, #07-06 Singapore 408898
Phone: 6744 7571
Operating Hours: 10:30am to 6:30pm daily
Quotz Pte. Ltd. is a fully owned subsidiary of Singapore Press Holdings (SPH) Limited.
Related Categories
Recommended Merchants(View all)