| | |
| --- | --- |
| | |
The Lexus NX flaunts a sculpted chassis and bold edgy lines, exuding power and agility, creating an undeniably dominating road presence. Echoing the sculptural appeal of contemporary architecture, the faceted lines of the SUV flow from exterior to interior with a blend of structural beauty and attention to detail, expressing an unparallelled sense of luxury the moment you get behind the wheel. More impressively, the NX Turbo is the first model from the Lexus to be gifted with a turbocharger, melding sports car agility and SUV functionality to give you unrivalled versatility, power and performance.
» SPECIAL FEATURES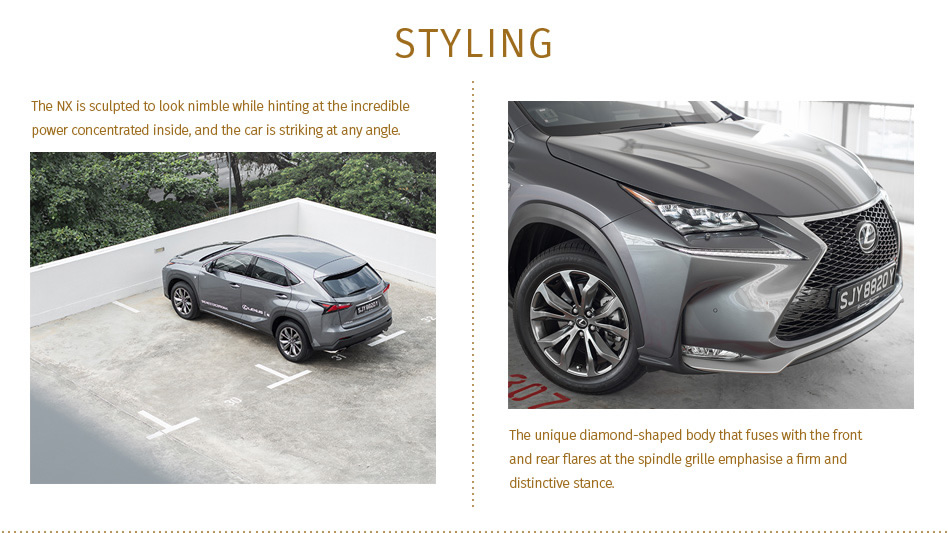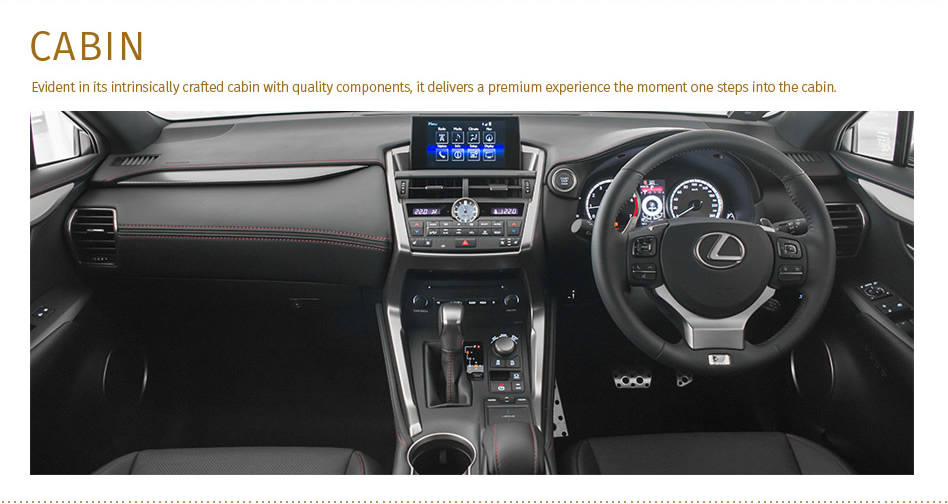 » REVIEWS
This car definitely shines in its ride comfort and cabin refinement. The six-speed automatic provides seamless gear changes. A drive mode select system with Eco , Comfort & Sports settings , which let'S me adjust how eagerly the engine and gearbox respond to my right foot. A turbocharged 2.0-litre petrol , fitted with a six-speed automatic gearbox rather than the CVT of the hybrid , is a pricey , sports-oriented range-topper to this distinctive looking four-wheeled drive SUV.
The large signature Lexus spindle grill design that gives the car an aggressive road presence.
It comes with a well built interior that is nicely outfitted. The Dual-Zone climate control settings allow the driver and the front passenger to adjust their preferred temperatures. A good added feature is the touch-sensitive dome lights and map light switches , which activate with a gentle touch over the lamp itself. Reclining rear seats will make two adults in the back feel lavishly accommodated. The boot is a respectable size with more than enough room for a small family luggage or the weekly grocery shopping. And a broad square shaped aperture makes loading bulky items pretty easy.

»

Read More

I have never owned a Lexus but when I hear my friends talking about one, it is always about how well crafted, quiet, reliable and comfortable. They hallow it as the pinnacle of Japanese engineering and after test driving the NX200t a couple of days ago, I finally understand why, and boy do I want one.
The RX from yesteryear never really was my cup of tea but with the NX, its hard not to fall in love. The NX being a crossover, looks sharper and more compact. However, if space is your top priority then you'd probably be better off with an RX.

»

Read More
» VERDICT
Lexus is poised to take the growing premium compact SUV segment by storm with the all new NX.

Following in the tracks of the new generation GS and IS sedans, the NX brings dramatic design to its segment - a look that conveys the functionality and performance of a premium, compact performance vehicle.

From its dramatic spindle grille and L-themed head lights to a body that appears carved from a single chunk of metal, there will be no mistaking the NX for any of its competitors in its class.

Stepping into the NX will feel like stepping into a sports car. The cabin design combines structural elements with luxurious yet functional materials and textures.

The NX is the first car in Lexus' lineup to sport a turbocharged engine - a 2.0-litre four-cylinder mill that produces 235bhp and 350Nm of torque.

Relying on highly evolved twin-scroll turbocharger technology and the ability to seamlessly move between conventional and Atkinson cycles, quick acceleration and greater efficiency can be experienced as the NX cruises around town.

A newly developed shock absorber, capable of controlling even the smallest micro-level fluctuations, contributes to excellent handling stability and ride comfort. Additionally, the NX features a new Adaptive Variable Suspension (AVS), capable of variable control in 30 stages.

The NX Turbo is Lexus' maiden attempt at a compact crossover and it has proven itself as a David amongst Goliaths. It packs quite a personality, is armed with seductively good looks and is a daily driver we will be pleased to call our own and that is why it is our Premium Compact SUV of the Year.