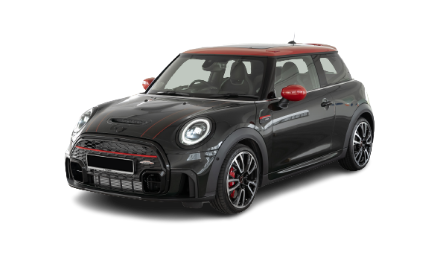 MINI John Cooper Works 3-Door
Like its siblings, the unhinged MINI JCW hatch received mid-life tweaks including an upgraded infotainment and a digital instrument cluster, along with a wider grille with black surrounds, and air intakes in place of fog lamps. Thanks to the 228bhp from its 2.0-litre engine, the JCW will zip to 100km/h in just 6.1 seconds. This may not sound lightning-fast, but the hatch's distinct persona and below-average weight means it packs way-above-average, go-kart-like fun.
Special Features




Verdict
'Chili Red' - one of the colours that can be ordered from the MINI factory - perhaps best describes the character of the car you are getting with the John Cooper Works 3-Door.

Glaring red visual elements already announce this all over its compact body - on its roof, dramatic spoiler, side mirror caps, and even right across the large grille (at least on our test car). Dotted not-so-subtly all around too are disced 'JOHN COOPER WORKS' badges, declaring that this is not your typical spruced up MINI hatch.

But the substance of the car naturally goes beyond what immediately meets the eye. Take the compact template that the 'normal' MINI hatch offers, throw in more than a few enhancements and the John Cooper Works is the firecracker that bursts forth.

Of course, the heart of the action is the TwinTurbo 2.0-litre inline-four found under its clamshell bonnet. Truthfully, the 228bhp and 320Nm of torque it packs are not what one might call class leading. But by way of a snappy eight-speed Steptronic Sport Transmission - and the JCW's ability to undercut other hot hatches in terms of weight - it will still charge to 100km/h from standstill in just 6.1 seconds.

Furthermore, where MINIs traditionally shine is when you're not travelling in a straight line.

The extra kit once more brings extra heat. The car's specific John Cooper Works suspension, for starters, is 10mm lower than on standard MINIs. MINI also says the car's four-piston fixed calliper brakes were specifically designed in full harmony with its 18-inch light alloy wheels to attack not just roads that are straight but also twisty.

Sitting low into the car, with your fingers wrapped around the chunky new leather-wrapped steering wheel, its heavy and talkative steering makes for a pleasurable exercise for the arms as you go round bends.

With many performance cars, the idea itself of a special badge often feels strong enough to overpower what the car truly offers in practice. To us, however, the JCW more than meets what you expect of it. In the realm of hot hatches, there is truly no other that fits the notion of a chilli: Pint-sized, but absolutely spicy.