---
Another reason why the Uber-rich will want to get their hands on this supercar...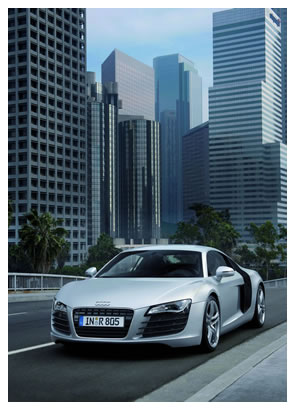 The Audi R8 has achieved a double victory at the 2008 World Car of the Year awards, winning both the World Performance Car and the World Car Design of the Year awards.
When naming the Audi R8 as the 2008 World Performance Car, the jurors observed that it has 'solid credentials on paper thanks to its mid-mounted 420 horsepower V8 engine and aluminum construction. But where it excels is in the exceptional balance, refinement and control that grant the driver the confidence to push to the limit.'
For the 2008 World Car Design of the Year award, the jurors praised the Audi R8 for "transforming the sports car landscape. The R8 design is striking, original and full of interesting details, from the nose strakes to the much discussed vertical 'blade' behind the B pillar".
World Car design expert Tom Matano, Executive Director of the School of Industrial Design, Academy of Art University, San Francisco, USA commented that the Audi R8 is "a great visual representation of the technology within, a complete package of Techno-Iconic Design".